Well…actually I'm not really having time to write. Actually I'm quite busy at the moment: I enjoy my life to the fullest.
I'm having less time to write because, unlike in California, I am allowed to work here in my new life in Mexico – and I love my work, so you'll meet me there many hours a day. And also I have met so many nice people what leads to that my spare time is pretty planned too. Result: I feel so good: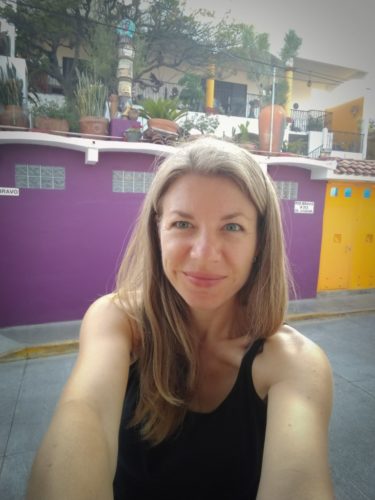 Baking applestrudle…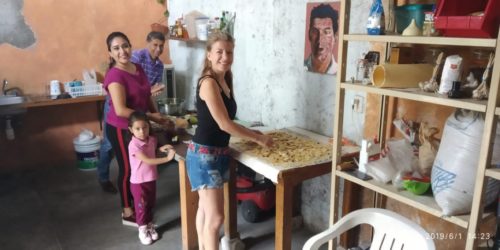 …enjoying Hierve del Agua…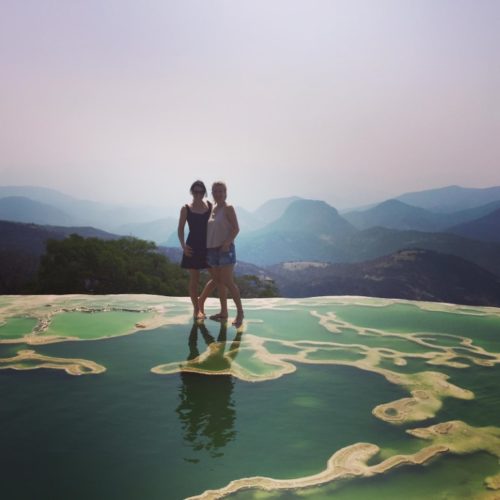 …and Fiesta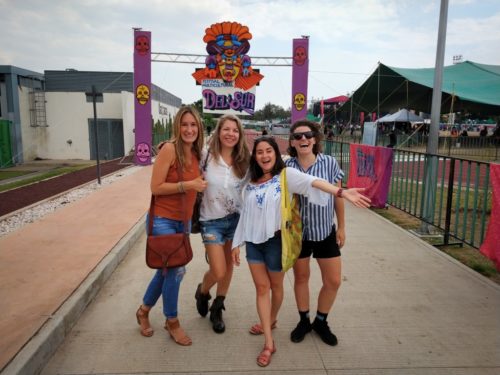 ---
My job is so rich in variety and I learn so much every day! It's my new hobby to get up in the morning to cycle to the office! Isn't that great? Especially after the last years, I appreciate that twice and three times!
Speaking of hobby: I'm still settling in Oaxaca. What do you, or Kiki do here in the free time? Currently I have two favorite hobbies in this city:
1. going out to dance or
2. go running.
Stupidly, these two hobbies are not that well compatible …
When I go out and dance, I usually do not make it back to bed until 4 am and then I need kind of the rest of my week to recover from it. And going for a run I am only capable of doing so at 6 am in the morning because every other hour of the day is just way to hot for these kind of things…
But slowly I get into a rhythm and the good thing is when I'm completely exhausted each Monday night: I fall kind of dead into bed and hardly can hear the nocturnal barking and howling of the stray dogs…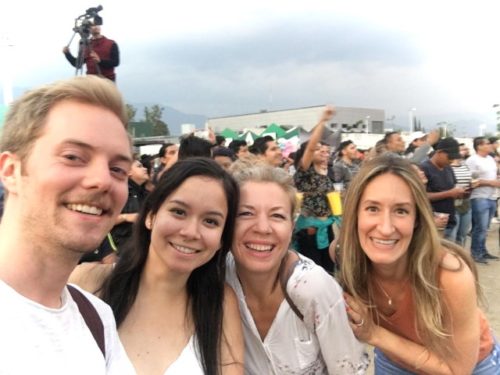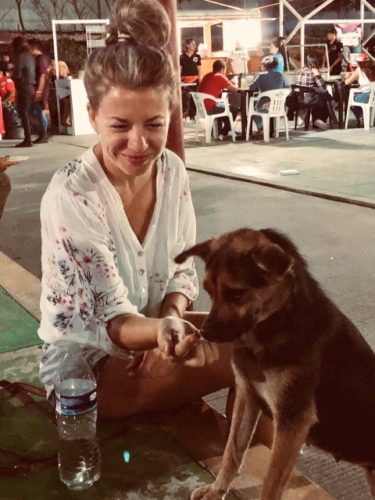 ---
But, today I have to take some time to write you, because I have to tell you about an unforgettable weekend!
Last weekend, I was allowed to leave the city in order to practice another favorite hobby of mine: HIKING! Unfortunately I can't do that a lot in Oaxaca City.
We will climb the Nevado de Toluca,  with 4,680 m it is the fourth highest volcano in Mexico!
We leave on Friday after work by bus to Mexico City. We are: two Mexicans, two Australians, one American, one German and one Austrian.
After "only" seven hours we mingle with 8 million Chilangos in this 2.240 m high located city. Boom. But we don't mingle for long as it already is 11:30 pm and we have to get up at 5 am! So rather sleep fast and well (by the way without disruption of one single dog barking!).
Pouring rain wakes me up at 5 am. Oh dear. Not the best weather for a hike. But I do have rain gear and am not made of sugar!
At 5:30 we're picked up by our tour-guides (well, 5:30 Mexican time, in reality they only arrive at 6 am…) and "only" three hours later we arrive the location. Clouds yes, rain no. Awesome.
We are already at 3,680 meters altitude.

  Yikes, I can feel it. 

I see black dots and I'm a bit dizzy.

 However, w

e get last instructions: walk slowly and take regular breaks to avoid the altitude sickness.

If still someone is going to struggle with vomiting, dizziness, headache, or just is not physically fit enough to make it to the summit, one of the guides will turn back with this person and the other one will move on with the rest of the group.

 

Then we are equipped with helmets and hiking poles and off we go.
---
We start gently. Nevertheless, we all wheeze a bit as we all are a bit unfamiliar with the lack of oxygen situation.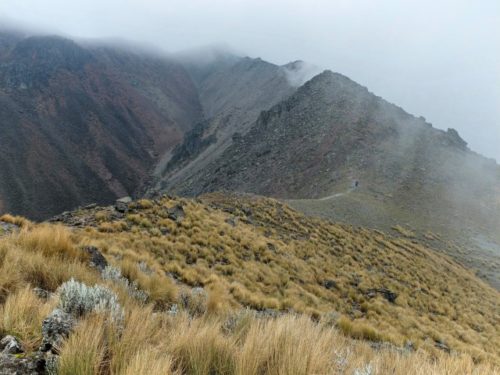 But it's so BEAUTIFUL.
And then it gently gets steeper…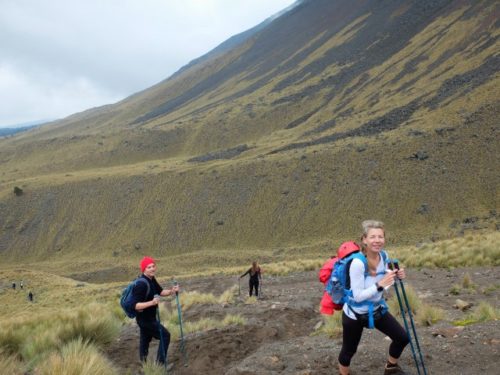 …and the dizziness stronger.
Hence we're not angry when our tour-guide "forces" us to a halt in order to adjust to the altitude.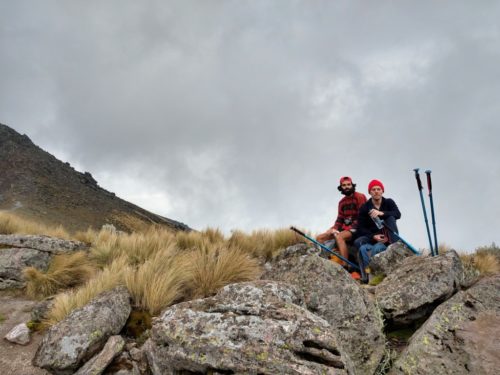 We hike higher and higher. The puffing louder, the chattering quieter. Now and then I feel a little sick, but it's okay. Very slowly, we continue to climb. Some of us get a headache. For me it's more the dizziness and a tremendous pressure on my eyelids that is bothering me. But I enjoy every second. It is so impressive!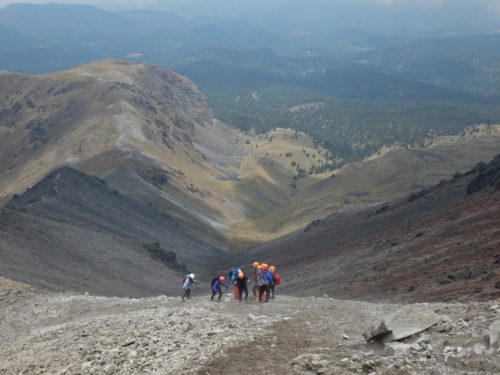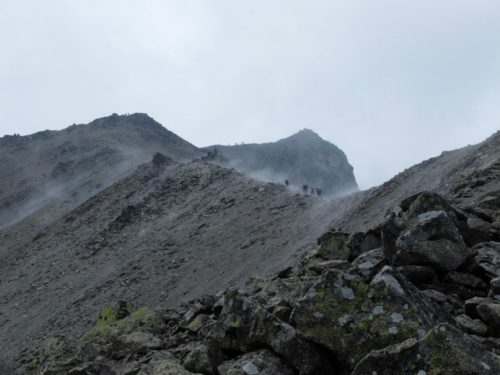 Now it is time to put on our helmets. Too big the risk to be injured: falling rocks could injure your head or falling people injure themselves. But since it is also quite cold and windy now I think it is pleasant as well to be protected from the weather by my helmet.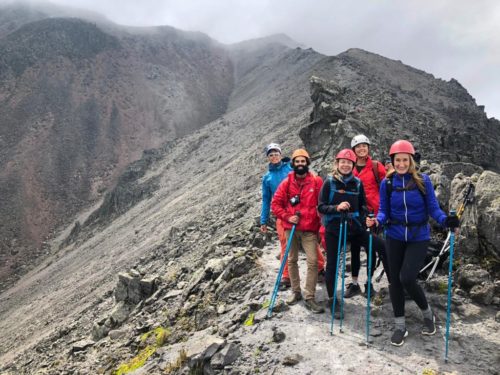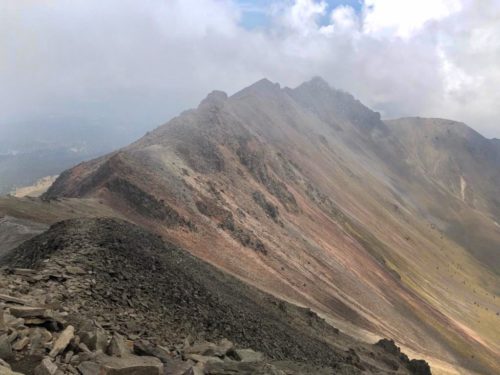 The last two hours are a bit exhausting for everyone – the altitude is what bothers us. But the summit is getting closer and closer: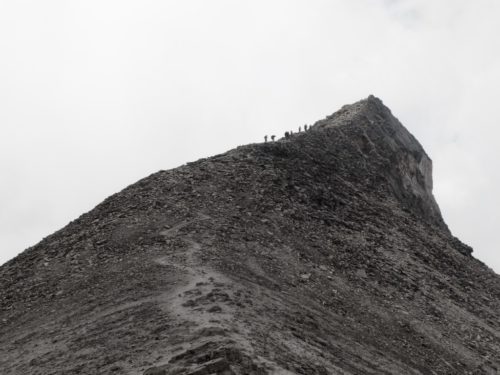 And then comes for me the point where I do not want to go any further: due to my fear of heights!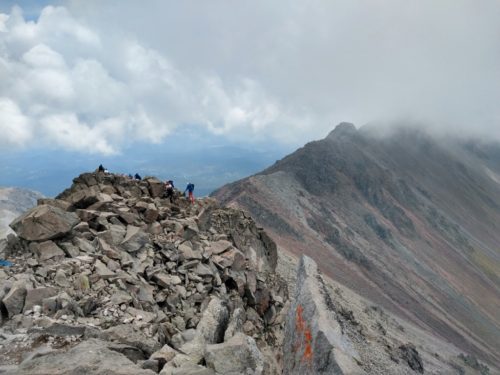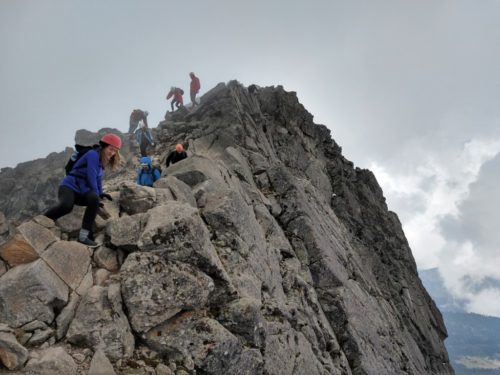 But Javier, our awesome tour guide, takes me mentally by the hand and leads me step by step – and then, after five hours we have arrived:
The summit of Nevado de Toluca. 4680 m.
Pressure in my head, gasping lungs, dizziness,  heart beating like mad. I feel tipsy – because of the height intoxication? And I feel happy – because of the happiness-hormones? Maybe both.
Either way, I'm so grateful for this experience!
Here I am, sitting at an altitude of 4,680 meters and have terrible headache. Here I am, living in Mexico, all by myself, 10,206 km far away from my home country. Here I am, learning a new profession: Being an English Teaching Program Coordinator, trying to follow my Mexican colleagues in our  business meetings in Spanish language (with a salary of 200 Euro). Here I am, "living" in a tiny room, owning: 1 suitcase of clothing (chaperoned by moths), my bike, 1 plate, 1 spoon, 1 cup, 1 pot, 10 mosquitos and countless cockroaches. The toilet neither owns a toilet seat nor flush. And the laundry is washed by hand.
And I'm as content and satisfied as never before!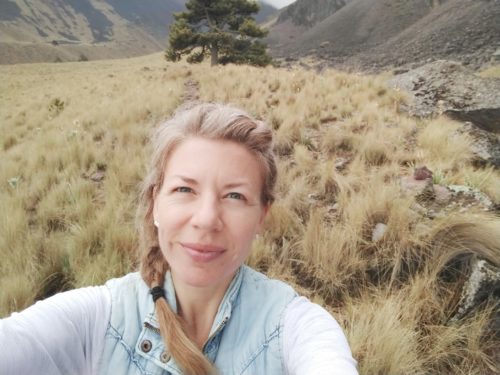 And yes, sometimes I do feel lonely. And yes, sometime I wish I had a washing machine. And yes, it would be pleasant to have a kitchen sink and hence no need of marching in the courtyard to do the dishes (especially when it rains).
And then I'm sitting on the bus, the non-air-conditioned one, on the way to the community where my team and I teach English. Crammed with 198 Mexicans and a few chickens, looking outside of the window, seeing how the farmer with his two oxen and a wooden plow plows the field, behind the seeds sowing peasant woman.
And they are all happy, content and friendly – and no one ever gave me the impression of being jealous of all the rich tourists. I am so inspired by this culture, these people, and have learned the most important thing of them:
It indeed does not need possessions to be happy. It just needs a joyfully beating heart.
And my heart beats very contentedly, proudly and joyfully against my rib-cage when looking into the crater of the volcano.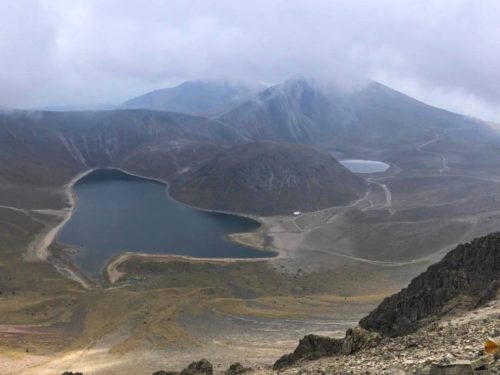 We breathe, we eat, we drink, we chat and we are happy. And then we walk back. With every meter we walk downhill my head's playing the drums more intensely. But my legs are easy going – all the dancing and running obviously have paid off.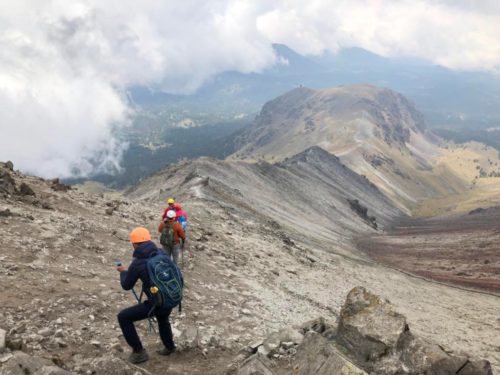 And three hours later we arrive where we had started. Satisfied, drenched (after all the rain has come) but complete, and with pounding heads.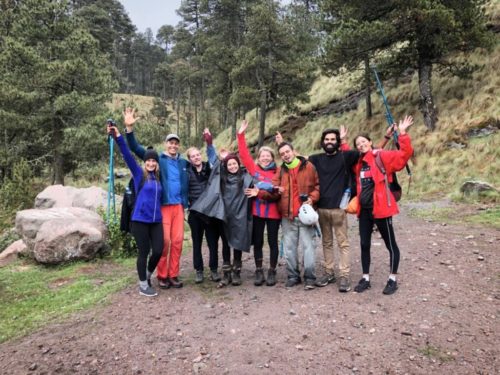 On the way home tacos and aspirin find their ways in our stomachs. That feels good. At 7pm we are back in our Airbnb, and at 8:30 pm we treat ourselves with dinner and beer and afterwards fall into our (way too hard) bed at 11 pm.
The next morning we pack up and go "home" to Oaxaca by bus, very enjoyable seven hours – relaxed doing nothing but watching the ever changing nature passing by.
Thank you for this fantastic weekend (especially to Pascal and Eli who have taken over all the planning)!
---
Today is Saturday – a week later. I'm off to go dancing. Bye.