I am sitting here, writing and big elephant tear drops are running over my cheeks and dripping on my laptops keyboard. I am pretty happy not to be seven years old anymore and forced to write with a fountain pen – by then when I had to cry over my work, the ink would smudge and I had to write everything again (as if it were not bad enough to cry).
But why am I crying today?
I had to bring my Conni to the airport.
(If you don't speak Kiki-tongue: I call my mummy not mummy but Conni.)
Yaks, I am really bad in saying goodbye…especially after two fantastic weeks together…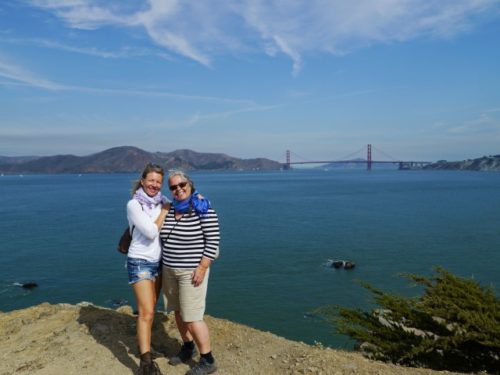 14 days in California – the best sights
---
Day 1 – take it easy
---
Who, like Conni, arrives with fever or suffer from jetlag should take it easy on the first day. Best thing to do: just relax in California's warm sunshine, having coffee and crossiant (the best next to France) in the most cutest coffee shop in Silicon Valley: Mademoiselle Colette in Menlo Park.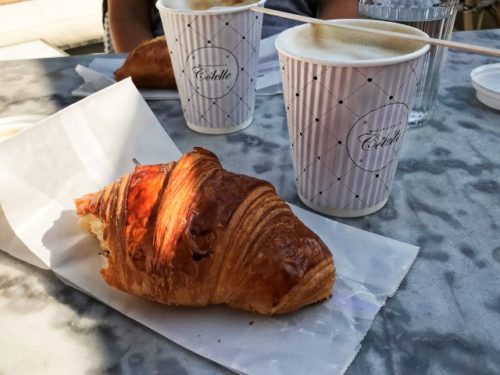 And after not having seen each other for more then 1 1/2 years one has to talk a lot!
---
But we had a little action too as suddenly a pigeon enters the coffee shop. After the pigeon smashed against the window three times, desperatly trying to find the exit, and all the coffee shop ladies hysterically screaming escaped in a corner vet Kiki stepped in. Skillful I could grab the poor bird and carry it outside – not without getting standing ovations and applause…a little blushed I did my curtsey and: got some cake for free from Mademoiselle Colette…
Yes, yes, I know, that's not a pigeon but a squirrel. But I don't have a picture of a pigeon. So I post this little cute squirrel.
---
Day 2 – Highway 1
---
From Silicon Valley the nicest way to get to the famous Highway 1 is over the mountains, via the La Honda Road.
The view is fantastic!
And we meet our first Redwood Trees, the biggest trees in the world: they can be over 110 meters high and 7 meters in diameter. And by the way: it is California's state tree.
When we arrive the beach we have picknick and enjoy fresh air and warm sun – September and October are very beautiful to do so as in July and August a lot of fog and clouds make it grey and cold. 
Here someone is happy – and free of fever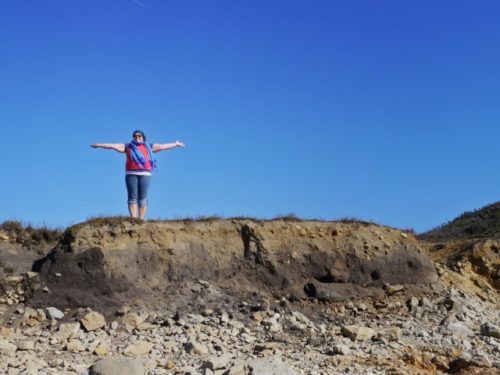 A few pelicans… 
Not only pelicans can be found here – Highway 1 is famous for many, many beaches. And if you are lucky, and we ARE lucky, one can see whales passing by…
---
Day 3 – Point Lobos and 17 Miles Drive in Carmel by the sea
---
Point Lobos
Point Lobos is a beautiful state park along the coast. Don't think it is a strenous hike, but it is a really nice stroll and you enjoy a stunning panorama.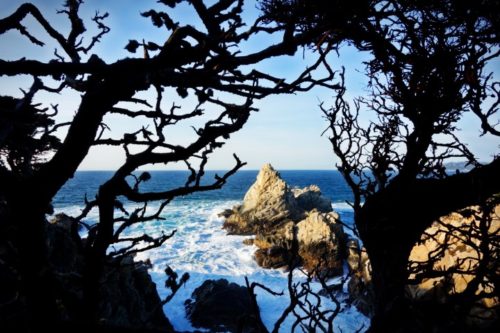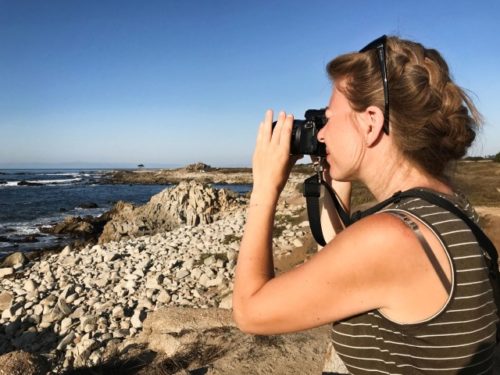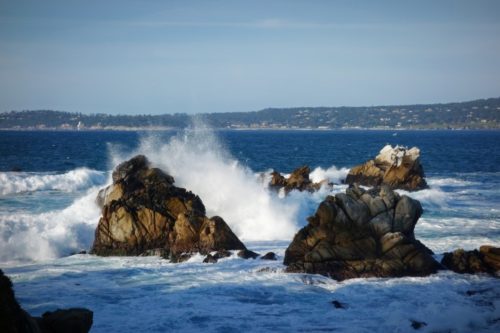 17-Miles-Drive
Next to Point Lobos you'll find Carmel by the sea. Clint Eastwood was mayor here and Ernest Hemingway and Jack London once had lived here. Without fail one lives here expansive! And to witness that you can drive for 10.25 dollar/car the 17-Miles-Drive… Biker and pedestrians go for free, motorcycles are not allowed to go.
But it was a nice drive and we are happy that we did it. Another gorgeous coast invites us to take some pictures.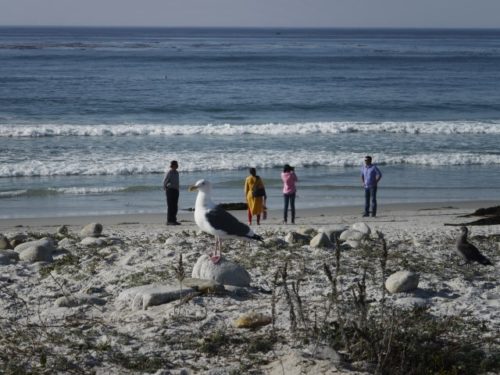 And while we are looking at the ocean a dream becomes true: only few meters from the beach a dolphin jumps out of the water! Not only one, but a few are playing and we are allowed to watch them. Awesome! (Even if I am not able to get a really good picture as the dolphins are way faster than the camera…)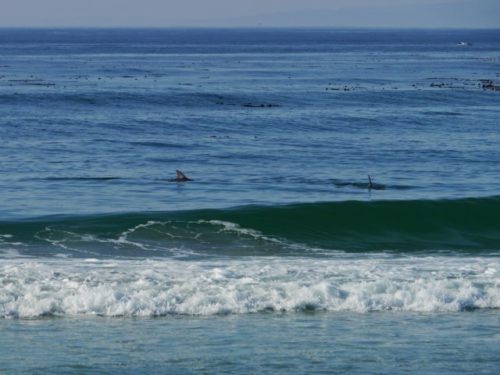 But this young guy was more in the mood of being photographed: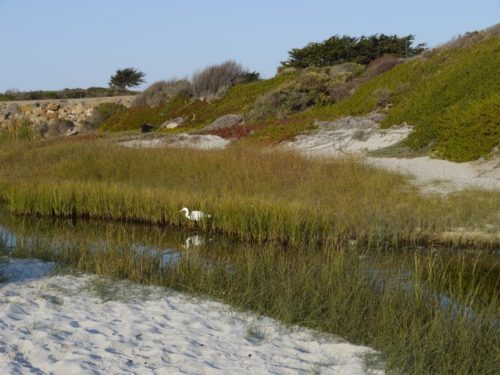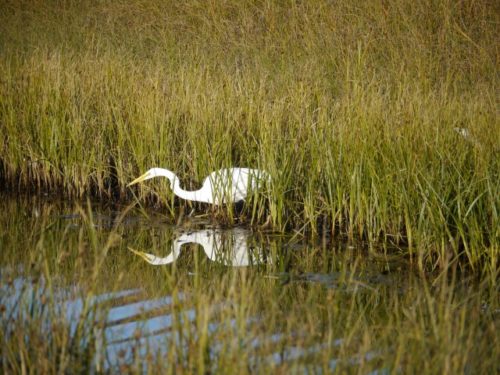 We enjoy the sunset and then drive home, to Sunnyvale, for having, what else, Burger…
---
Day 4 – San Francisco: Lands End Trail and 49-Miles-Drive
---
Land's End Trail
We start this (again) sunny and warm day with breakfast in the Cliff House in San Francisco. Not cheap, but affordable one can enjoy a superb view next to one's  Egg's Benedict.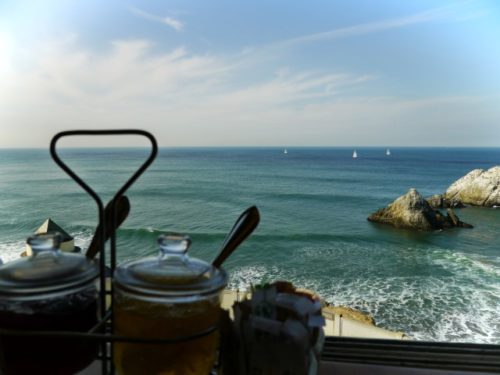 Outside surfer surf and sailboats sail and – whales whale!!! THAT's a breakfast, isn't it?
Afterwards we stroll on Land's End Trail towards theGolden Gate Bridge. That's a hike you should defenitely do when visiting San Francisco!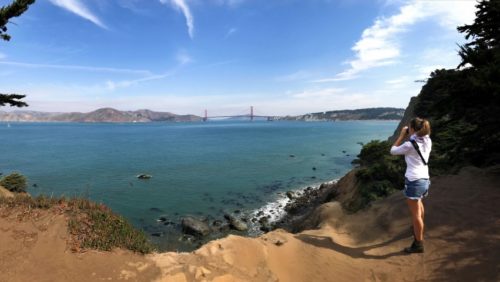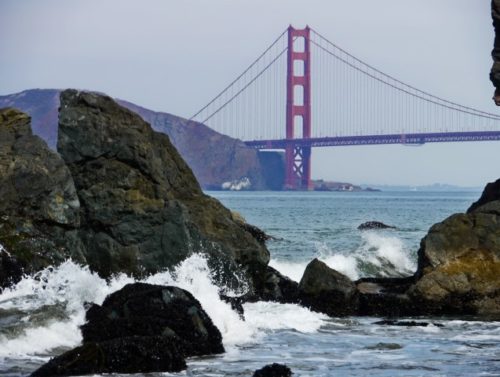 And while we breath in all impressions and scents a dolphin jumps out of the water. That's just not possible! Never ever before I have seen dolphins and now the second time in a row. And there is a big group swimming by. I am delighted. And Conni as well. 🙂
49-Miles-Drive
Then we jump back to our faithful car Carsten. 
Kiki's 49-Miles-Scenic-Drive through the City. You need about 3-4 hours including breaks.
It's nice, we are having fun! A few highlights:
Golden Gate Park – there is a racoon on the tree!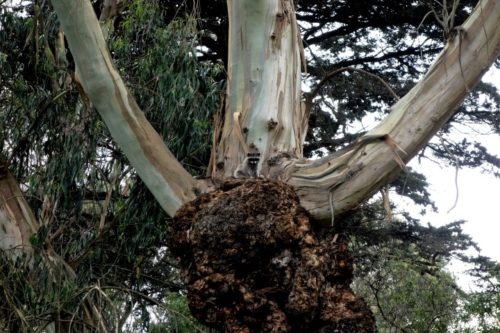 Painted Ladies with a great view of SF.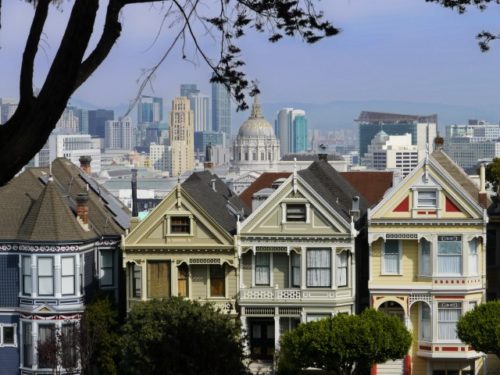 Twin Peaks and more views of the city.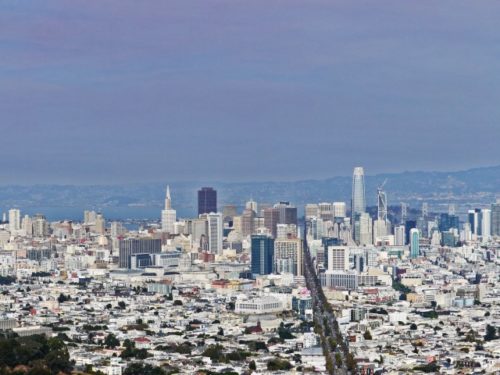 Again and again colorful houses: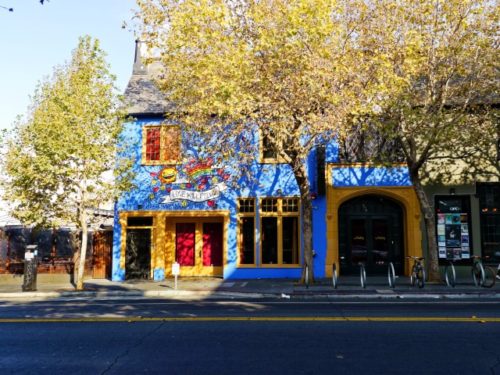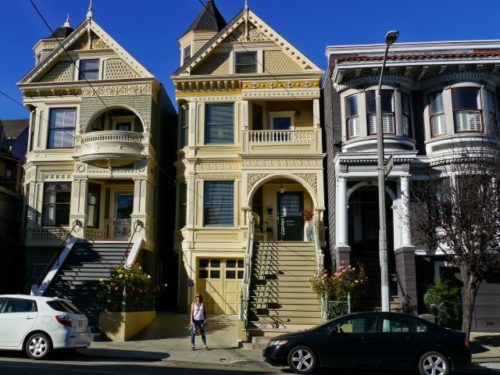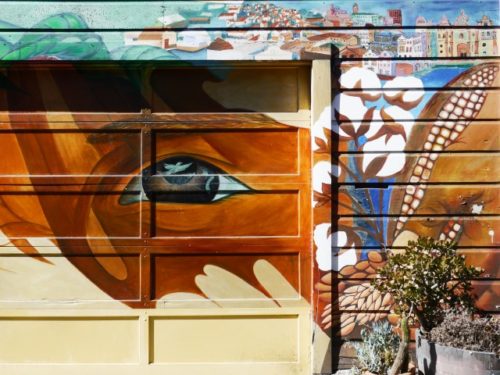 View of Telegraph Hill: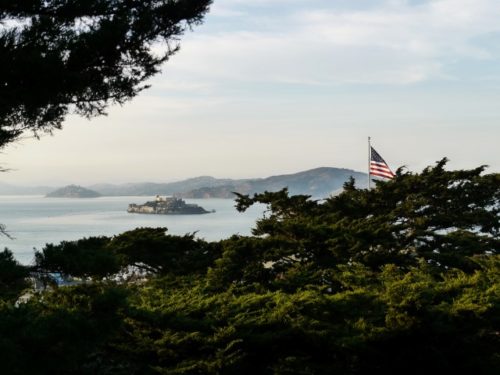 Lombard Street with view of Coit Tower (hidden in the upper right corner)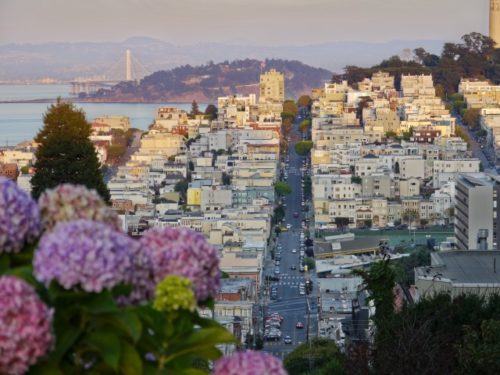 And of course the famous cable car:
Another highlight happened: after seeing the dolphins in the ocean we spot a coyote at Telegraph Hill – that's in the center of the city! We already had seen the alert sign but never ever thought to actually see one of those beautiful animals…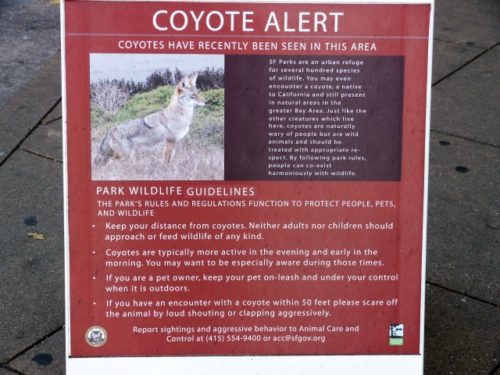 Great day!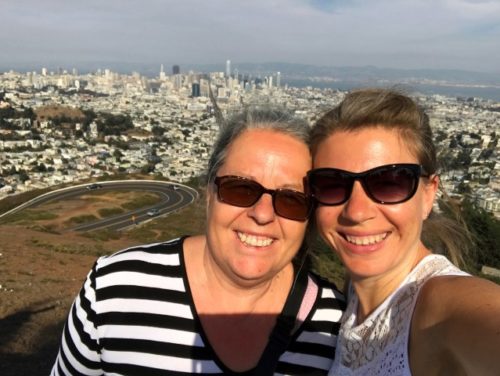 ---
Day 5 – Stanford
---
Today we study. We study the university of Stanford. The campus is for sure one of the most beautiful ones ever! And if you know someone working there I would say it is your duty to pay a visit!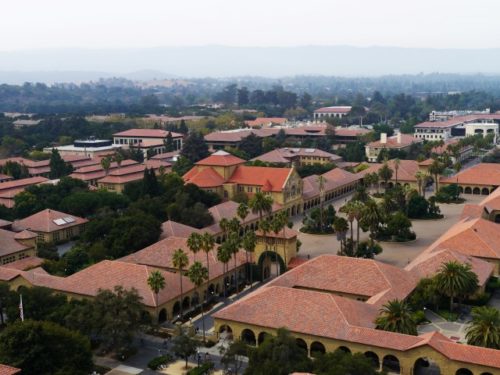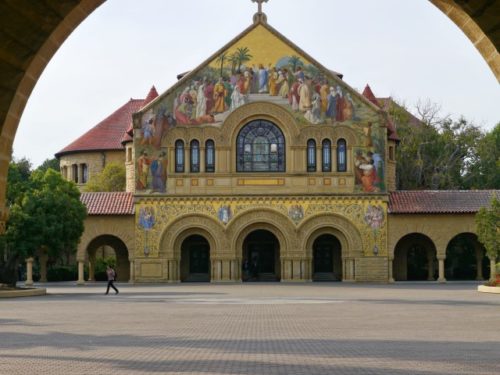 After lunch one part of the group has to work…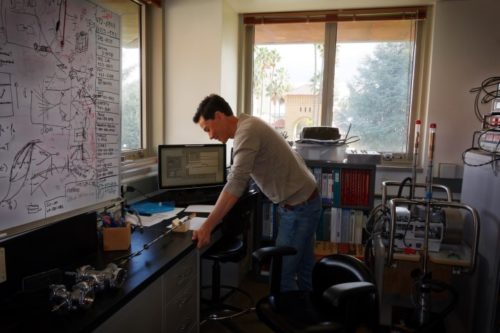 …the other part recovers exhausted.
And this student has probably gone through particularly difficult times…?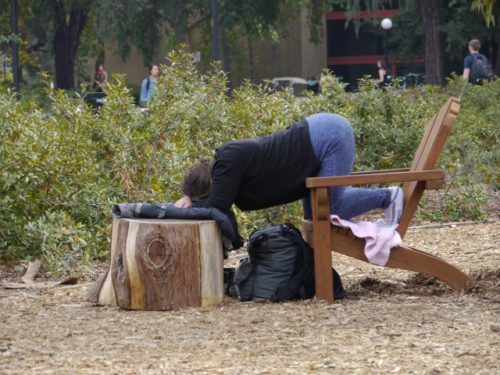 Is it a Tuesday you are at Stanford then join the Master Class of the piano player students. Every Tuesday from 5:30 – 7 pm you can listen to them. And they don't plunk around, no. They are terrific! You can listen for free whilst they practice playing infront of an audience. TERRIFIC!
And holladrio this day is over…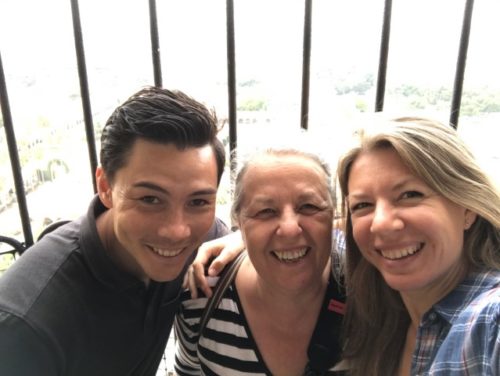 ---
Day 6 – Whale Watching in Monterey
---
The boat pitches and tosses – but if you stay in the back and watch the horizon you should be fine 🙂
And we are so lucky and see so many whales! And dolphins! And dolphins playing with whales! And an ocean sunfish! And sea otters! And seals!
Only the weather is not nice, it is cold, Cold, COLD and grey, Grey, GREY. But it is more important to see so many animals than a blue sky…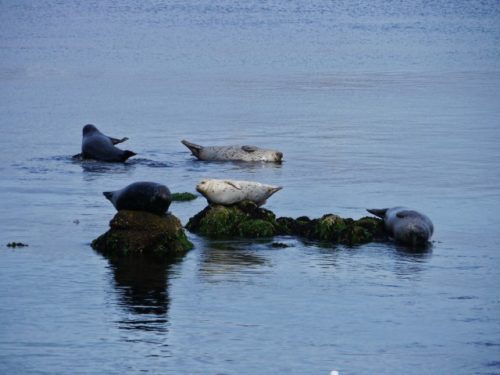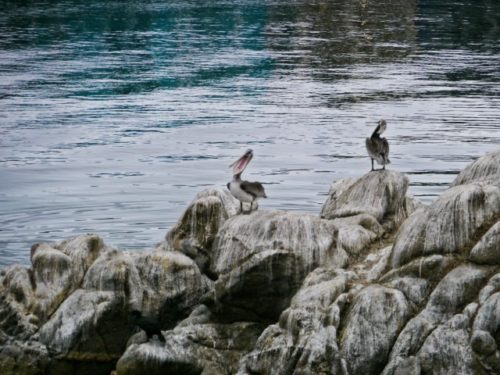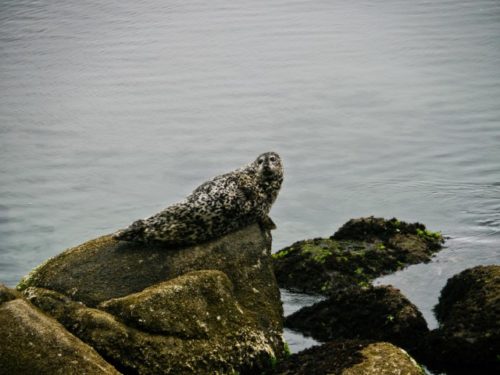 ---
Day 7 – Shopping
---
What would be the USA without shopping? Right. In the Bay Area I recommend either the Gilroy Premium Outlet in Gilroy or the San Francisco Premium Outlet in Livermoore.
Also a hot candidate is Ross – Dress for less. But pay attention: they sell a lot of trash. But in between you can find brands (like Tommy Hilfiger or Calvin Klein) for really cheap!
---
Day 8 – Big Basin State Park
---
You have to see the redwoods if you are in California! Most tourist would therefore go to Muir Woods State Park. But I really say: don't go there! It's like a zoo for trees – they are fenced to protect them from those hundreds of thousends tourists…
If you want to experience nature go to Big Basin State Park! Here you will find silence and hiking paths for big hikers as well as for not so sporty strollers.
And of course you will find big trees…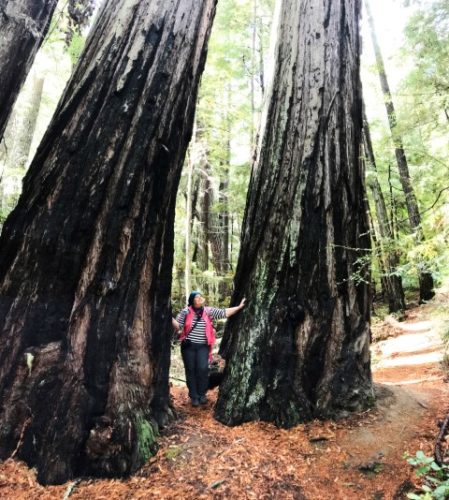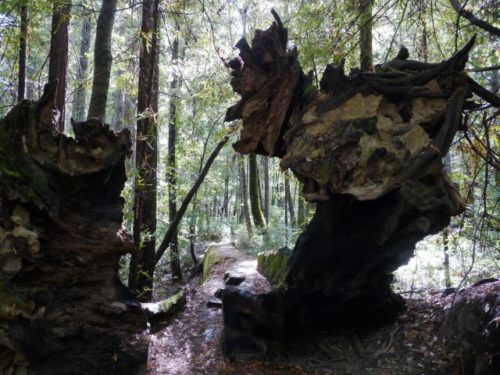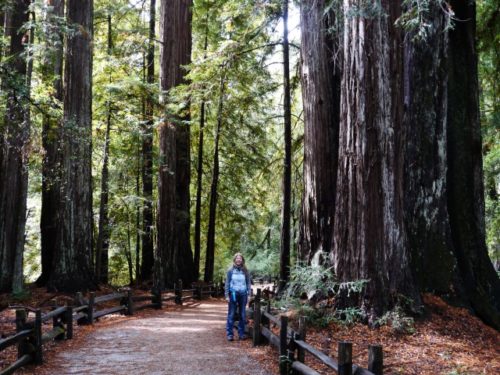 Here your soul can breath…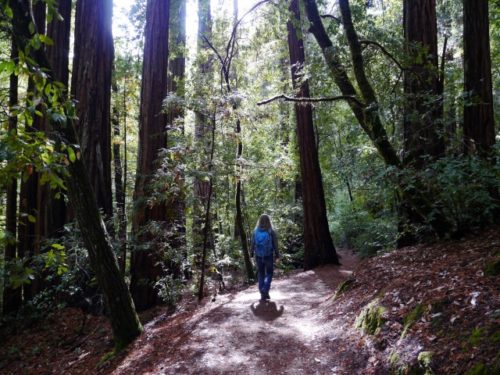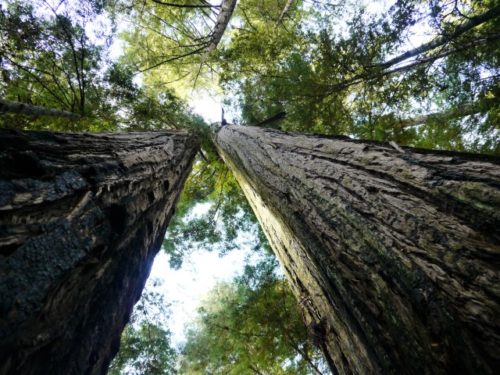 ---
Day 9 – Bike the Bridge. The Golden Gate Bridge in San Francisco.
---
Borrow a bike and go. Along the coast towards the bridge.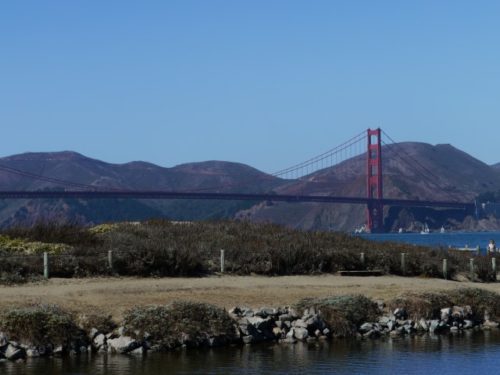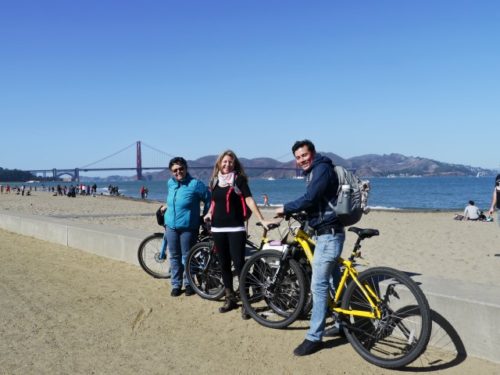 We are accompanied from blue sky and sunshine…lucky we! Such a nice trip! A real highlight!!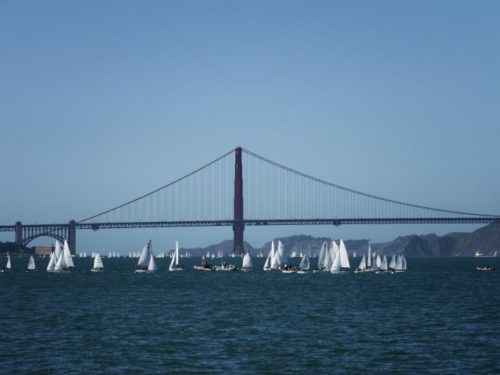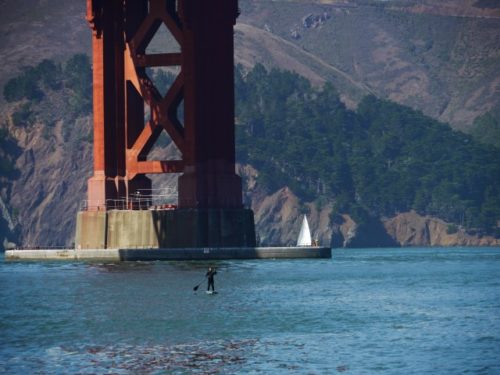 The famous, but also beautiful bridge presents itself in ever new perspectives.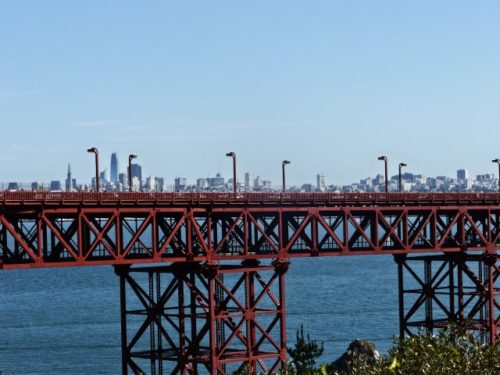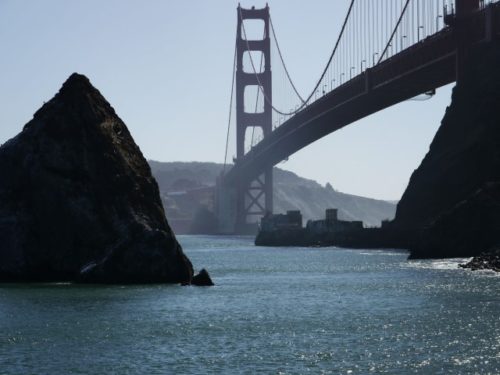 We enjoy the approximately 13 kilometer journey to the fullest.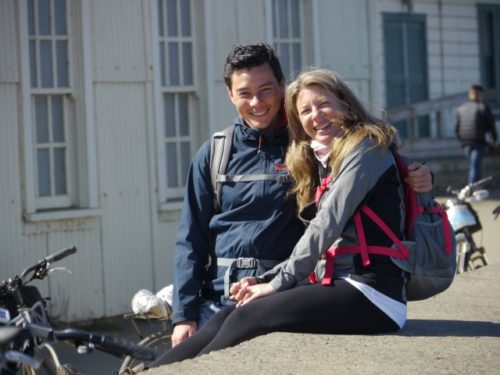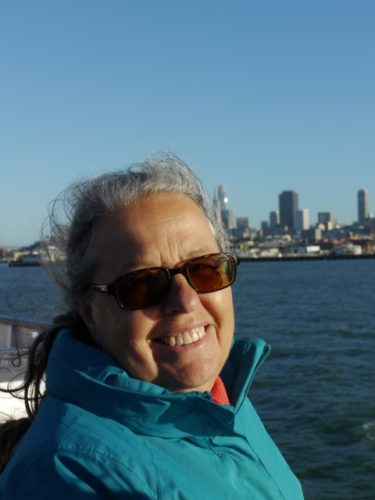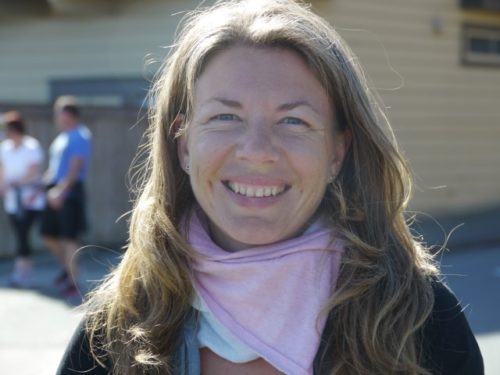 The journey is the destination. But of course, there is a real destination as well and that is Sausalito. Here we strengthen ourselves with coffee and cake – because our brought snacks were distributed to a few needy homeless people. You should do this as well one time. San Francisco has among the cities in the US the highest population of homeless people – it's a bit odd in one of the most expensive cities in the US to meet so many people who have no roof over their heads …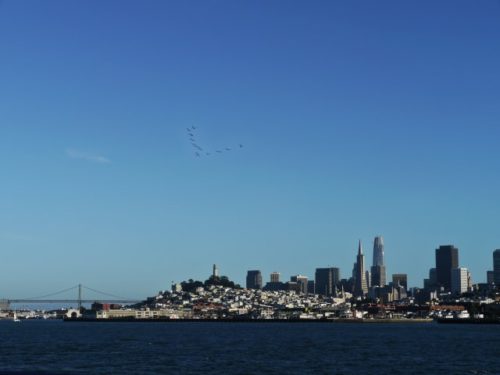 Back we go on a ferry. And are rewarded with more breath taking sights: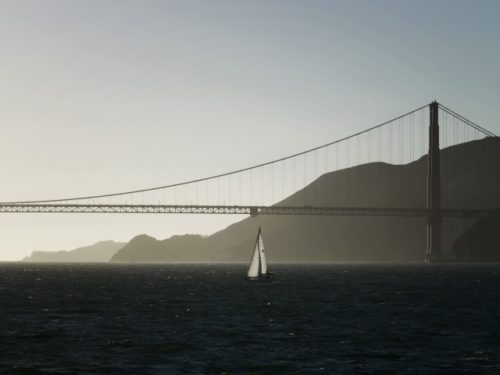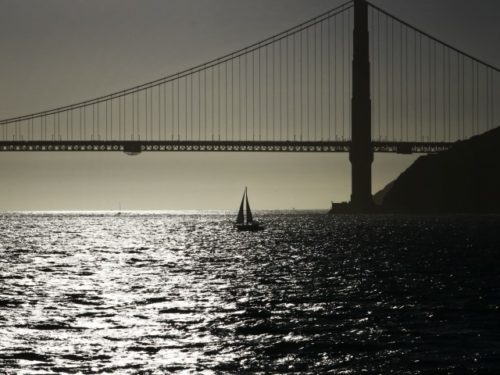 ---
Day 10 – San Francisco and Berkely
---
Today we explore San Francisco on foot. Car, bike, running – you always get new and different impressions.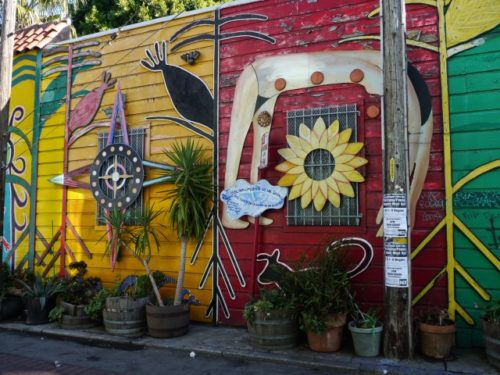 How colorful the city is!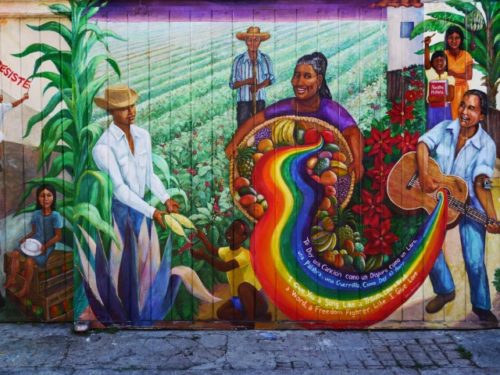 And so many pretty houses: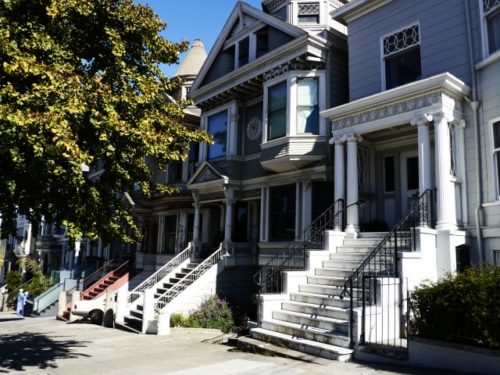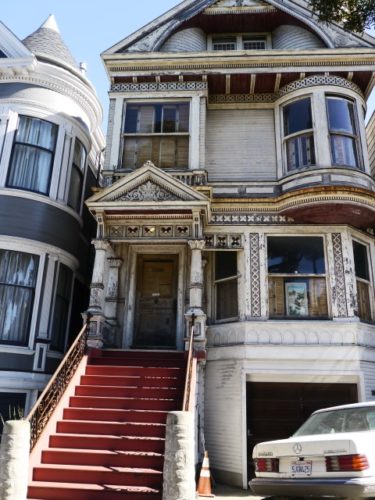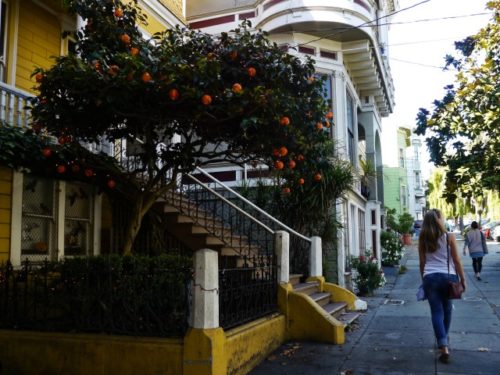 HERE I could live…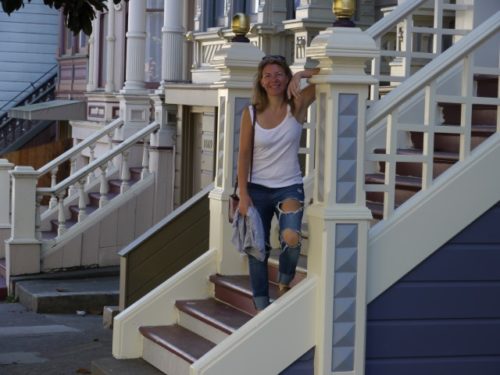 …if only the weather were not always so miserable. If you want to travel to San Francisco and do not want to freeze in the mist, come in September / October. This is the warmest and most beautiful time in the city!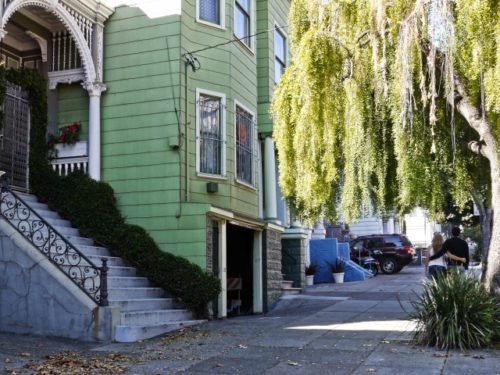 Then we drive out of the city via the Golden Gate Bridge – by the way, toll-free. Only IN the city you pay about 7 dollars toll.
And if you're in this area right now, you should enter the Marin Headlands Vista Point into your navigation device! Great view of the city is the reward! Who is sporty is riding a bike … We prefer to take the Carsten 😉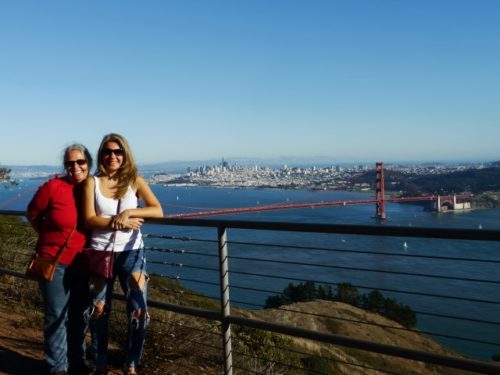 We don't want to pay toll and go back home via Berkely. There we meet a friend of mine and have dinner: a Deep Dish Chicago Pizza. Yummy. Nice. Sundowner. Brilliant.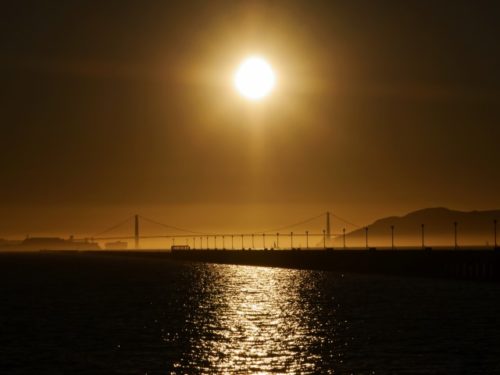 ---
Day 11 – 13 – Yosemite: Tioga Road.
---
From the Yosemite National Park you can read HERE …
And now I have to wash the tears from the face and then to change bed clothes. And then I go back to the airport: my dear friend Nina arrives from Austria in a few hours …