Boom! Hot! Perspiration! On December 29th! Yes, well, we're in the desert, that's right – you might expect some warmth … But last year we were in Death Valley. Also a desert. And it was pretty cold there and we had to freeze. So we were wiser this time and packed all fleece sweaters, scarves and hoods.
And now I'm in the desert, sweating … stupidly, the sun bangs down on us really UV-heavy – and so I force myself in my sweater, sigh, but better too hot than too sunburned…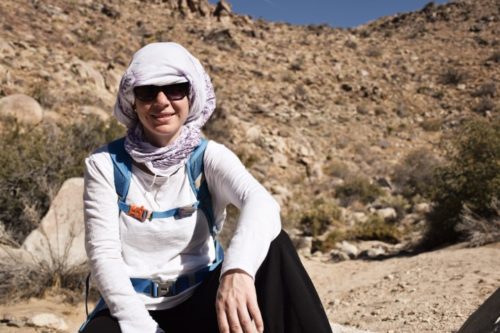 Joshua Tree National Park is a fascinating nature reserve and offers more variety than you would expect from a desert!
Day 1: Split Rock – Barker Dam – Inspiration Peek
One should start a beautiful sunny morning with the Split Rock Trail. An approximately 2.5 miles long roundtrip. Wow wow wow.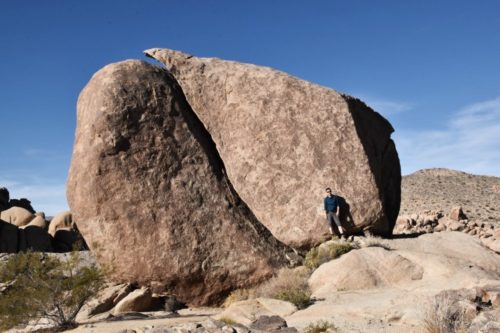 Just a great scenery!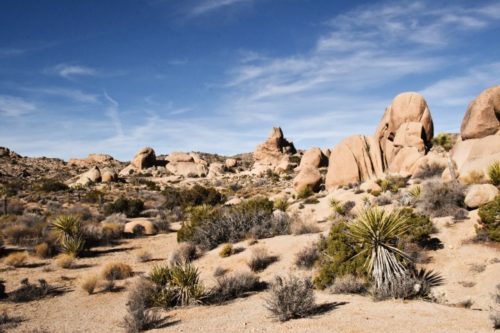 And since we are here early (9:30 am), we have this gem almost for ourselves. And from the eponymous Joshua Tree to bizarre rock formations to cacti – everything is visible.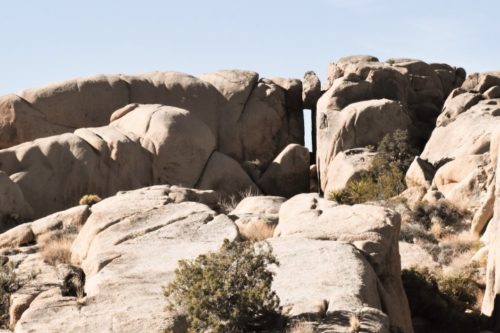 Even the (not yet) famous bunny stone is around: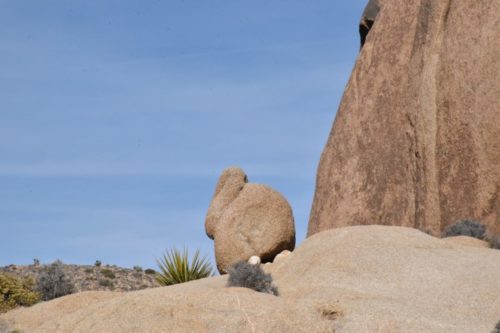 H A P P Y 🙂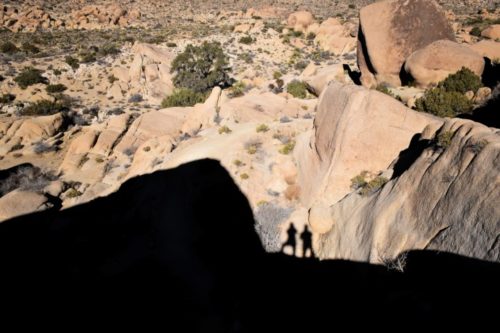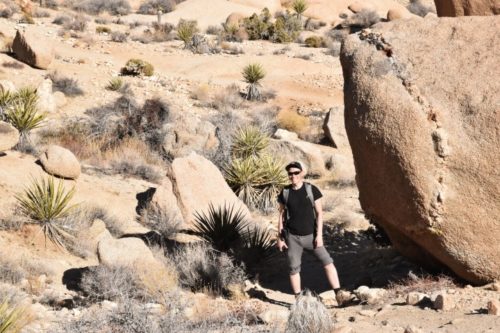 We continue at Barker Dam, a 1.5 miles roundtrip. Whether it's the time of day or because of Christmas, or simply because it's beautiful here too – but we have to share the joy with some other travelers …
But as there is not only one way but many possibilities to move forward, everything and -one is distributed quite well.
In any case, we are quite astonished when this mirror-smooth lake appears in the middle of the desert: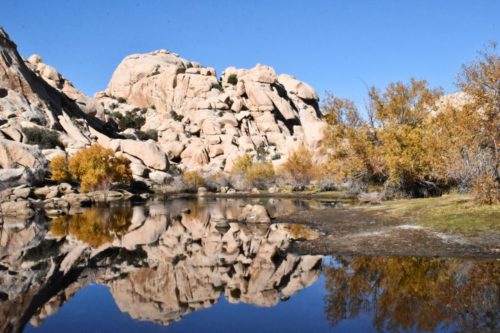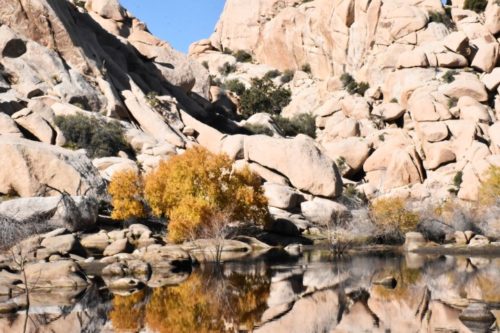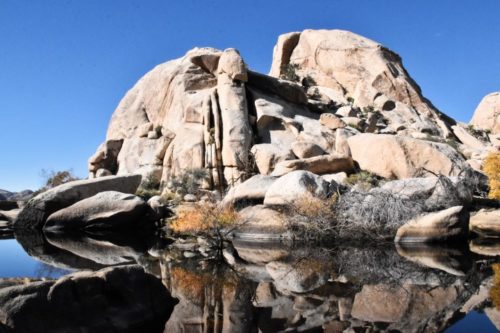 The ideal place to climb one of the many rocks and feast our lunch (in the form of a cereal bar).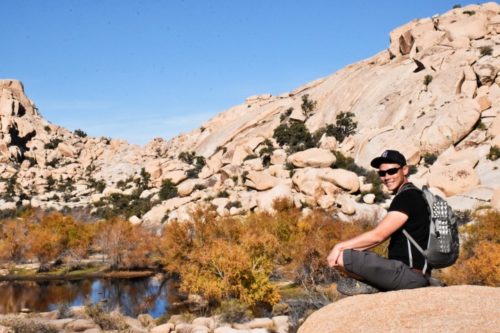 Since we were not hiking straight forward but strolling and exploring around the afternoon has already progressed and we drive to the Inspiration Peak – to indulge in the sunset.
Since the Inspiration Peak and the Keys View share a parking lot, come here soon enough as of many cars are trying to get a place!
From the parking lot on the left you'll find a paved path to Keys View. Here you can share the view with many other tourists. OR you go to the right, there is a little trail that leads up and upper and soon you have a nice view.
After just a few minutes you look down to Keys View…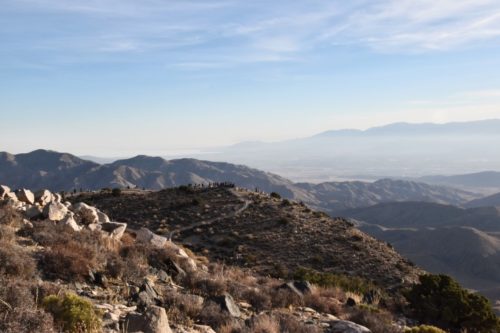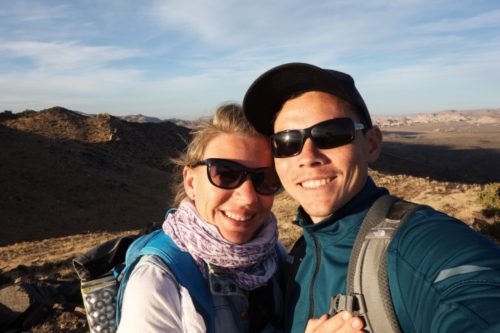 The vegetation is getting barren, but looks so nicely anyway: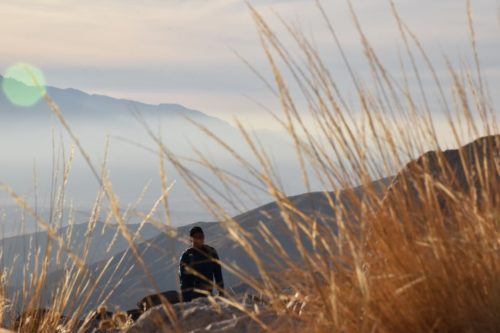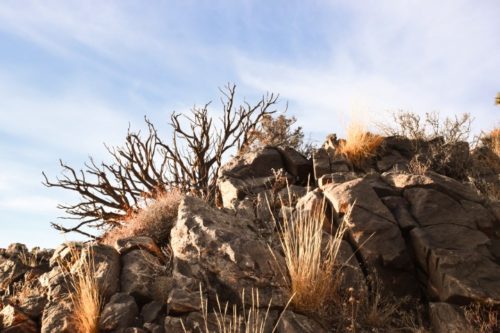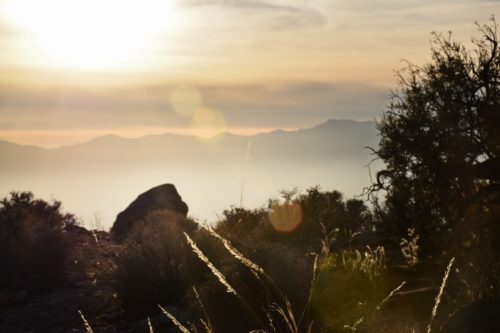 And on top we actually experience a great view and a sunset.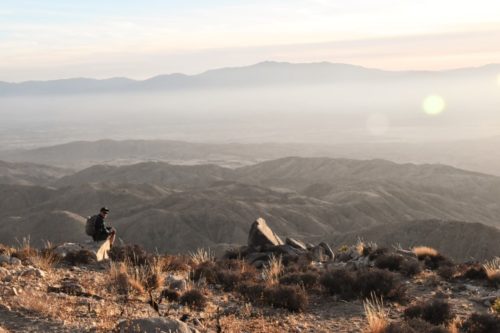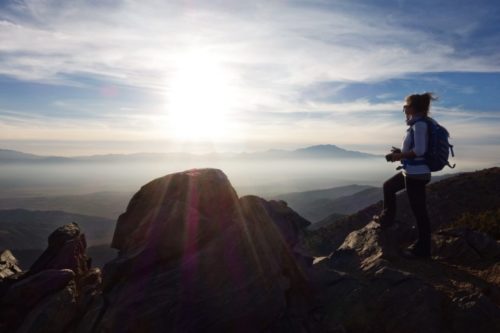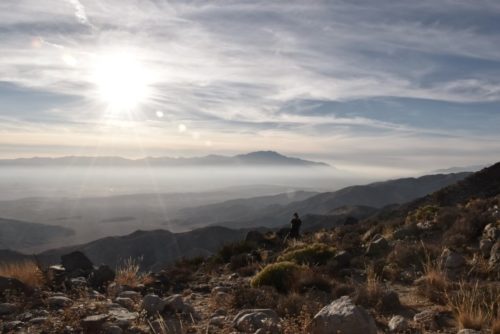 Day 2: Johnny Lang Canyon – Hidden Valley – Cholla Cactus Garden
We spend the night in the village of Twentynine Palms, in the El Rancho Dolores Motel. Highly recommended as cheap, clean, nice and you are in no time in the park.
Today we say goodbye to the other tourists and the paths and just march into the wilderness.
The Johnny Lang Canyon Trail is an approximately 6.2 miles long roundtrip – off-trail. 
Equipped with GPS, we venture into the desert. Even if it initially looks like you can not get lost, I'm sure: you can! We also heard that there really was once a couple who could not find their way back out and died of thirst …
Also, one is very exposed to the sun – hardly any shade. And a lot of sand from which a few Joshua Trees stick out.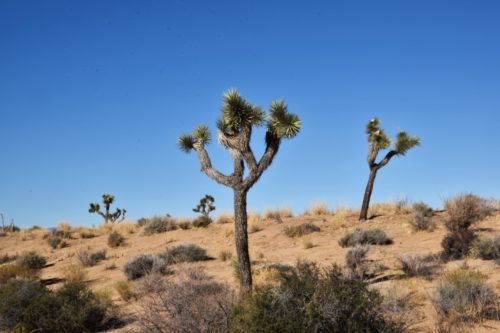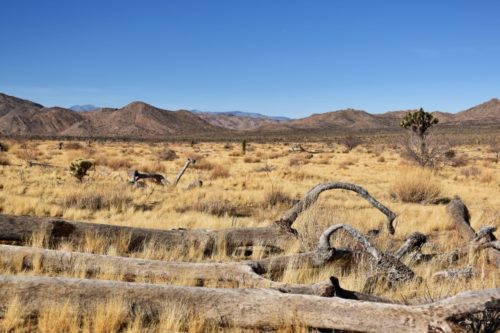 But why is called canyon then? Well, because the sandy steppe eventually is getting more rocky…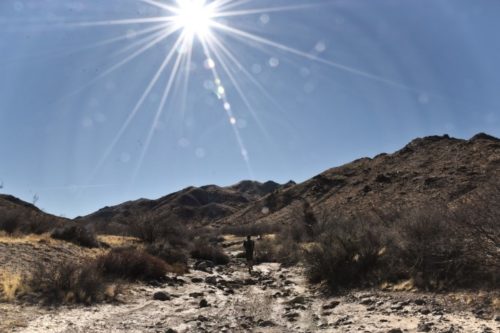 …and more rocky…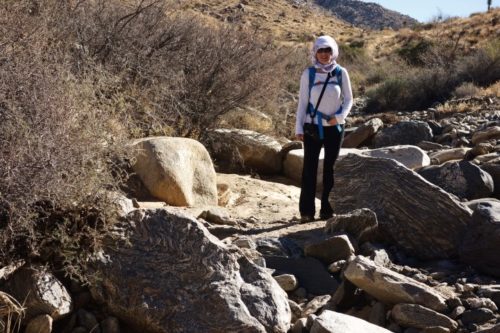 …and finally changes into a canyon.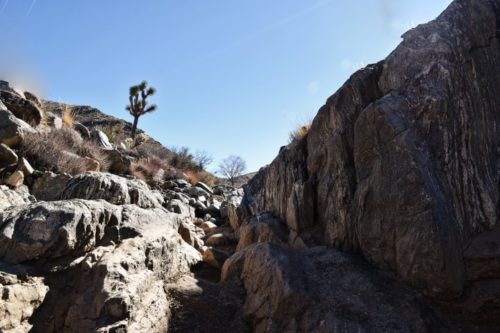 And at some point I would not have been surprised if an Indian had appeared behind one of the rocks. That's how I imagine the Wild West!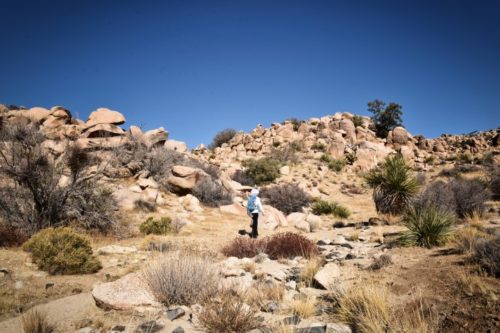 Then I'm pretty sure we might die today. Or, at least me. It is so hot. I'm thirsty. I hope we have enough water?! Where the hell are we? Behind every bend I expect to find the parking lot with our Car(sten). But there are only more stones and even more and they are getting bigger and bigger…
Finally we have to climb! And I have to laugh all the time because I'm afraid to crash. But it's good to know that I am ready to die that happily. 😉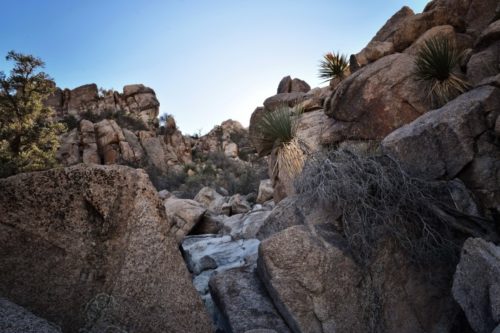 In the end I don't crash. And Matthias with his GPS brings me back to the car safely 🙂
Let's go now to  Hidden Valley Trail. It's not that hidden as you might think – after our solitary walk out in the desert we are amazed to find so many two-leg ones…
Here, especially climbers get their money! So, they don't get any money-money, don't get me wrong. It's just perfect conditions for them – whether professional ones with a rope, or just amateurs who want to climb a few rocks … There are enough rocks for everyone!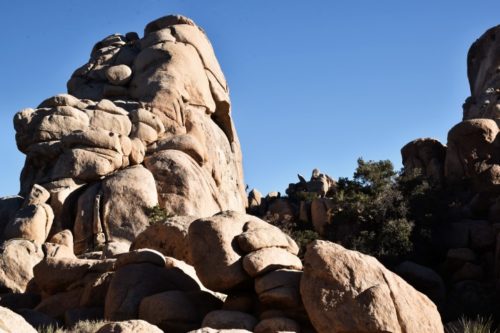 Who finds the climber?
HERE he is!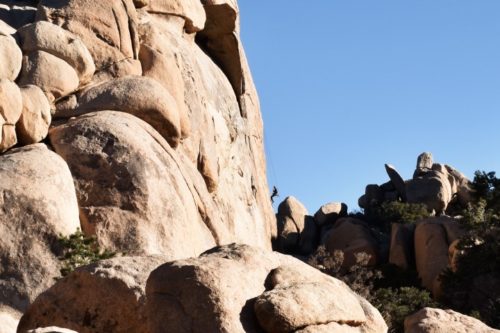 The sundowner we witness in the Cholla Cactus Garden. Many, many cacti (I would say as you would find in a cactus garden) grow around here. Violate at your own risk – there are no fences.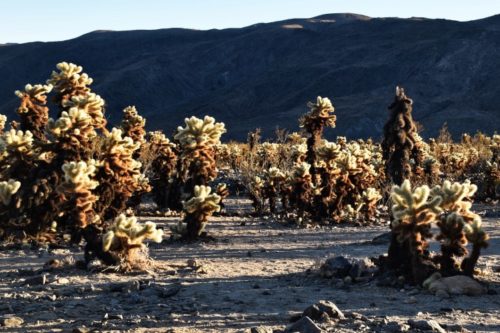 Day 3: Lost Palms Oasis – and Farewell
Somewhat more remote, in the south, there is an oasis. It can be reached via the Lost Palms Oasis Trail – and of course we want to experience that before we – today is New Year's Eve – drive to Santa Barbara to the family of a colleague of Matthias, where we are invited.
7.4 miles out and back. After 1 mile I am already bored.
"When are we there …" I murmur into myself. "Is the oasis full of beauty? Is it worth it? We have to go back the same way …" I hate out and back trails. I prefer roundtrips!
But then the scenery changes!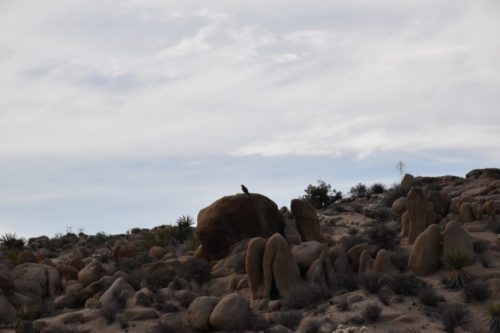 I'm glad. No. Excited! Sometimes there are many stones, sometimes many cacti, sometimes we are in a canyon, sometimes we have a great view… in any case, it goes up and down efficiently – and the sun glows down again neatly on us.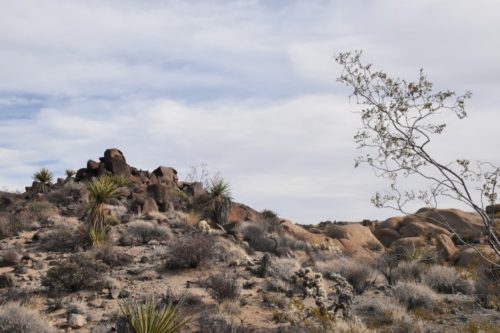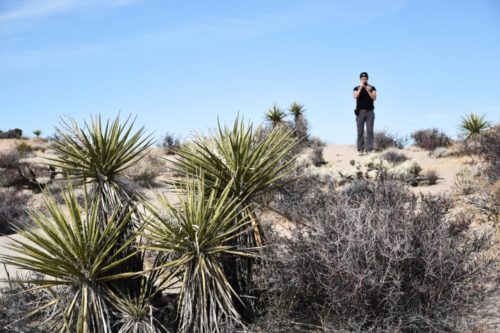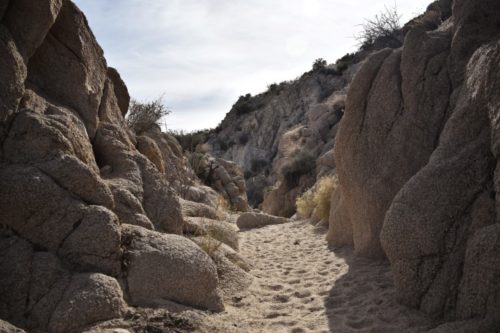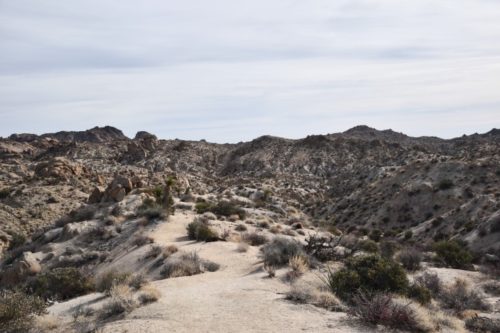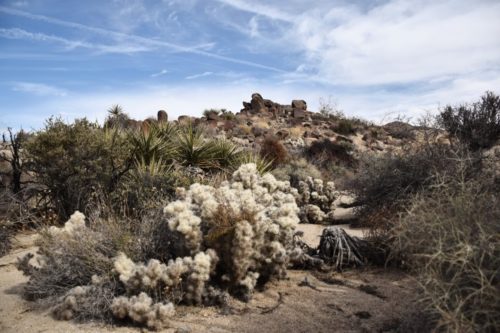 And then we stand in front of the oasis. I had imagined the oasis like that: all the zebras and antelopes and lions and so on are drinking peacefully from the oasis lake and colorful birds whistle happily down on colorful flowers.
In fact, it looks like this: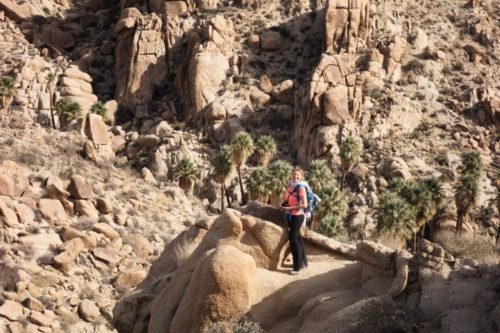 Ya. Is nice too. But I'm similarly disappointed as I had been after my first metro ride in Paris at the age of five. I was promised that we would go underground by train. Terrific, hell, I was excited! I am going to explore the soil out from a train!
But: I could not discover a single mole. Not even an earthworm! I had thought the train digs itself well, like a worm, through the earth and comes back to the surface in an arbitrary place …
For those who have not yet been to Paris: do not be disappointed after your first metro ride! The train just goes through tiled tunnel !!!
Let's get back to the oasis. Even without antelopes it is worth a visit! And it does not even bother me that we have to go back the same way – it's so varied that I do not feel bored.
And back at the parking lot, there is another oasis!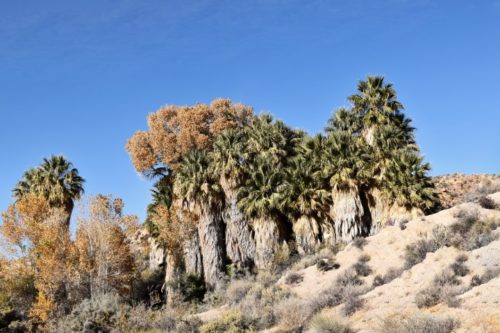 And now we have to hurry – New Year's Eve in Santa Barbara is waiting (or not).