Who loves nature HAS to visit Yosemite National Park. So Conni *) and I check out the road conditions and then check into Carsten **).
  *) Mother
**) Car
In Yosemite everbody can find his favourite place to be – no matter of being a  climber, a hiker, a stroller or a "car-hiker". We decide for the last two opportunities and want to cruise the Tioga-Pass-Road. On this road you cross the entire park and get a great, no, GREAT impression of this huge natural scenery.
However, the 3031 m high mountain pass is only passable on good road conditions – therefore always check (preferably HERE)  if the Tioga Road (Route 120) is open
Yosemite, here we come!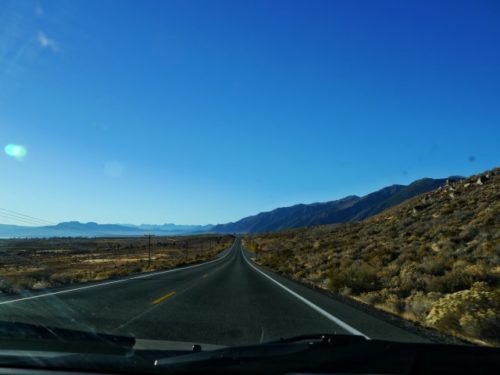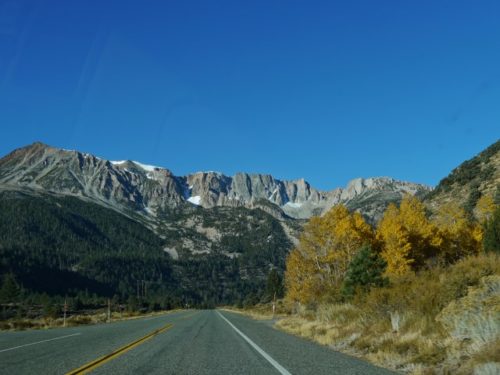 There we meet all seasons and the landscape proudly presents us everything it has to offer: we pass rugged rocks and gorges, beautiful meadows, mirror-smooth lakes and dreamy forests … So, so beautiful!
And whenever you want you can get out and stretch your legs (longer or shorter).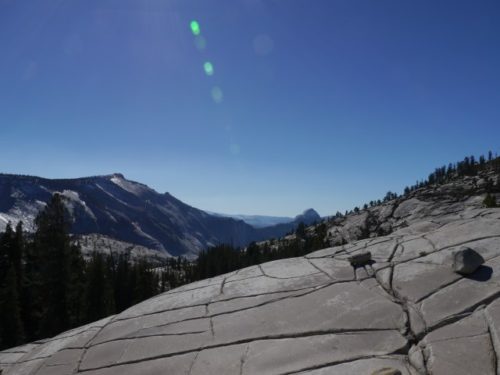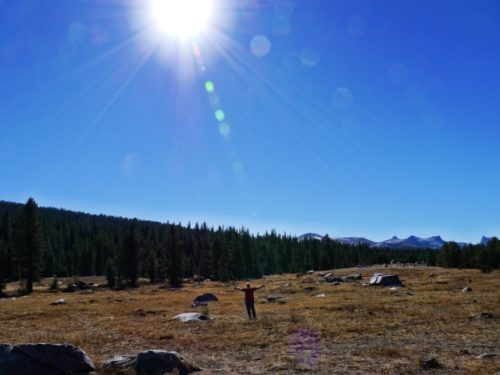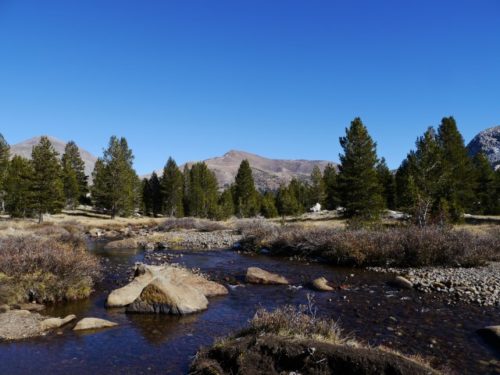 ---
We are hungry for lunch. No problem, in Carsten is indeed a snack. Missing only the right picknick spot… And lo and behold, the God of the picknicks means well with us because we just pass the beautiful Mirror Lake NOW. A nicer picnic spot can hardly be imagined.
And so we chew our brought along treats:
Homemade pita bread (recipe) und hummus (recipe), accomponied by an apple (red), bell pepper (yellow) and cucumber (green), and a great view, and sunshine.
Well, God in France doesn't have it nicer!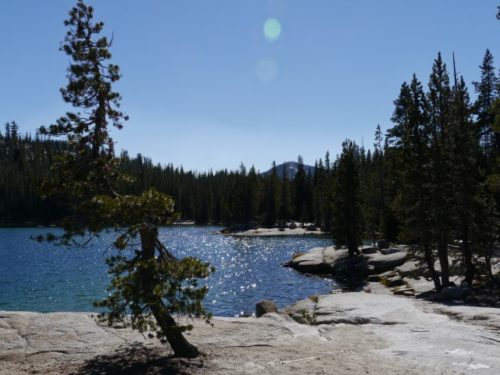 Strengthened, the journey continues. And today it's so warm that we turn on the air conditioning – despite 3000 meters altitude!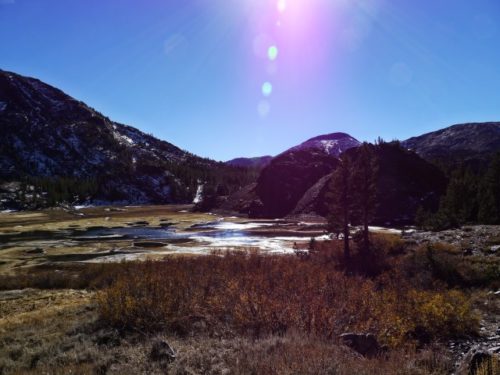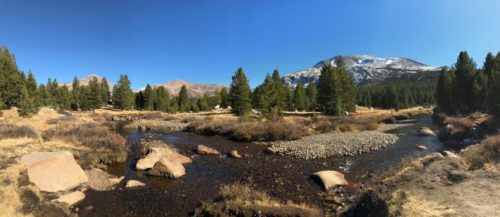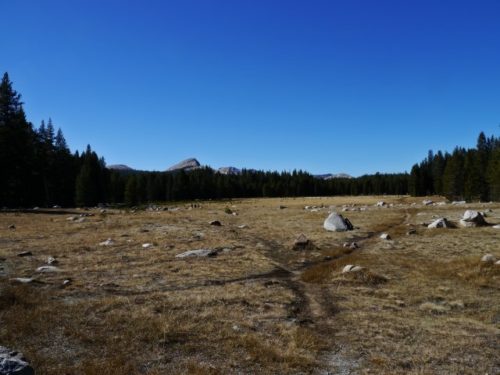 Then we reach the other end of the National Park and thus civilization. Right time for a coffee.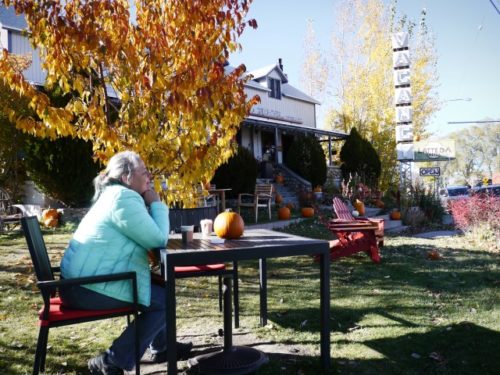 But we do not want to stay in civilization yet. And so we cruise over rolling hills and fence-free, dog-sheltered, sheep to the ghost town of Bodie …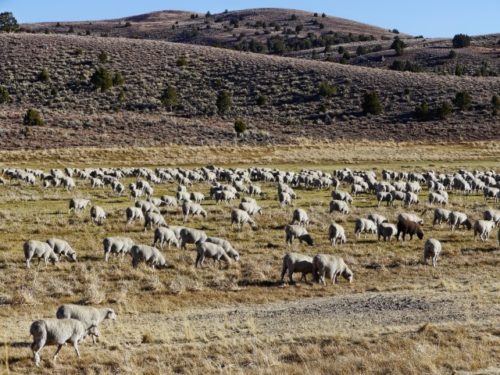 In the middle of nowhere, surrounded by silence and tranquility – this is the former gold mining town. The Ghosttown in Bodie State Historical Park.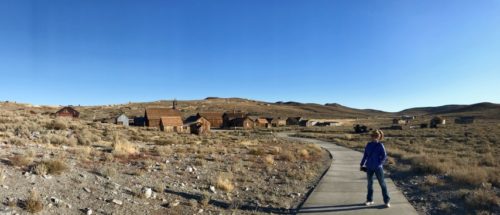 Conni likes it so much, she would love to stay:
"I get fresh water out of the fountain…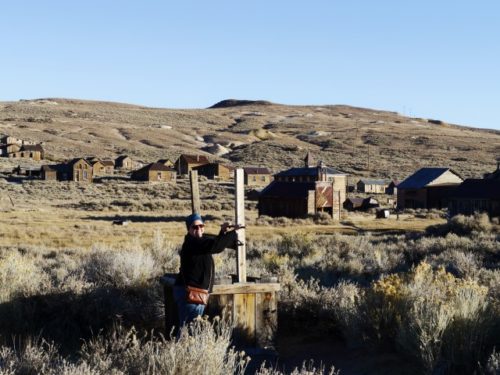 …and a Sandwich and some beer, accomponied by a brawl in the saloon.
On Sunday I visit the Mass held in the curch and then…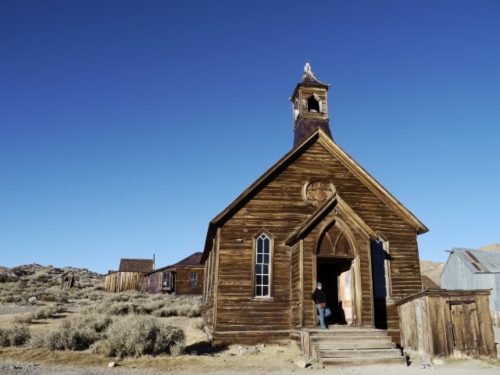 …I'll check out if I can find a bit of gold.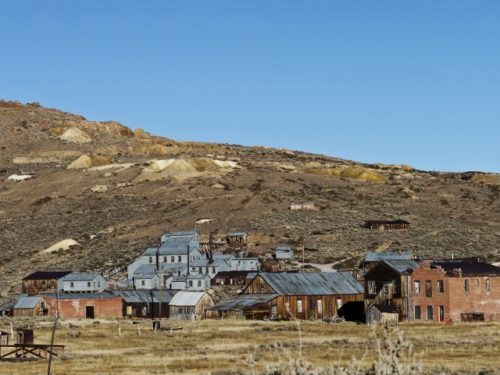 Yes, I like it here! Only, I maybe have to tidy up a bit…"
---
Then the sun goes down and we have to leave this fairytale place.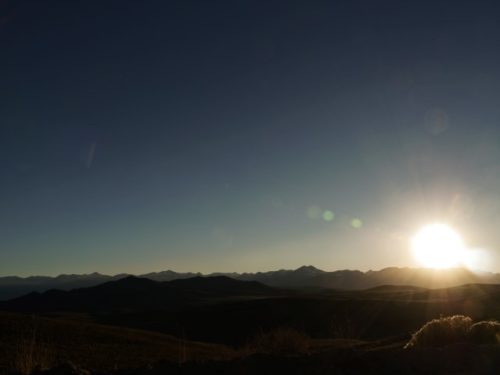 Then we check into our accommodation for tonight: the  Big Meadow Lodge in Bridgeport. A fine and nice room. Nevertheless, we sleep badly – the walls, I think, are ONLY made of a wallpaper, because we had the impression our neighbors sit on our bed. So, better use earplugs …
---
Next morning. And, what do I see there? An owl is sitting in the parking lot of our lodge! How genius! I hurry back in quickly and get the camera: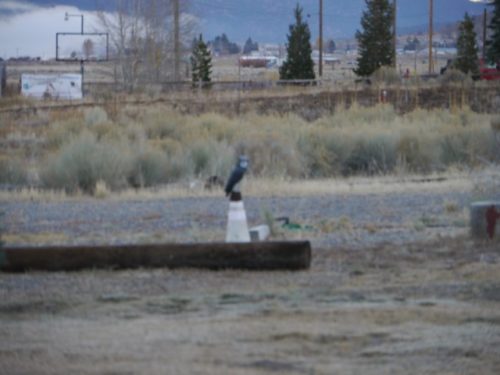 Oh man. What a shitty picture! I change the camera settings. Let's do it again:
Ohnoohnoohno! Once in my lifetime I spot an owl and I do not get her photographed! To all photographers: I beg your pardon for this photography called imposition 😉
I have to get closer! Hopefully she stays!
Really, really carefully I approach closer and closer, and a little closer, to get a great snapshot.
And indeed, I manage to capture the shy animal: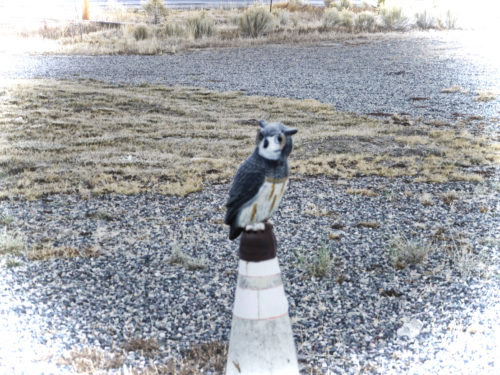 ? ? ?
---
Then I scratch the completely frozen Carsten with my shampoo bottle ice free. Breakfast is served while driving. After all, we do not want to waste time ?
Today we drive uphill the big mountain. But before we can do so we have to read the sign: Be prepared to stop. All right. I prepare myself and Conni and Carsten as well.
We are prepared to stop.
Yes, totally prepared. Many miles we are prepared. And nothing happens.
Just the minute I want to de-prepare myself and floor the gas pedal a guy stands on the street…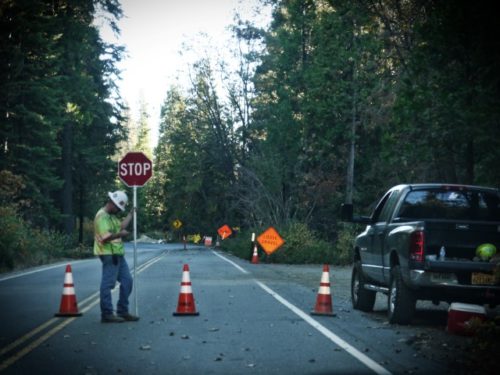 Well. Stop. Dutifully we come to a halt.
At some point I turn off the engine, because nothing happens. The stop-guy plays with his cell phone and stubbornly presents the stop sign.
A long time nothing happens.
Then, finally, a few cars are approaching from the other side of the construction site.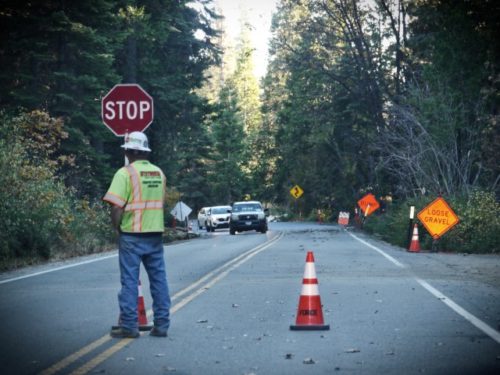 Excited, the Stop-Guy puts his cell phone in his pocket and concentrates fully on his stop-sign. Because now comes his big performance:
He turns his sign over!
And at the same time, the first car of the convoy, a construction site vehicle, turns around!
Mesmerized we sit in Carsten and observe the spectacle.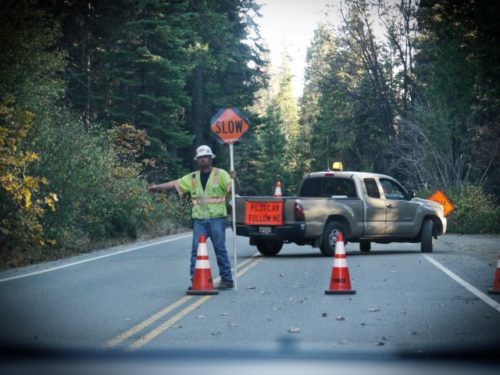 Now the stop-guy starts to wave wildly and when I accelerate he waves his sign: SLOW is written on it now. Alright. We have to follow the pilot car. Because there is FOLLOW ME written on the board.
Carsten and I tremble with excitement! WHERE are we going now that we get our own PILOT CAR?!?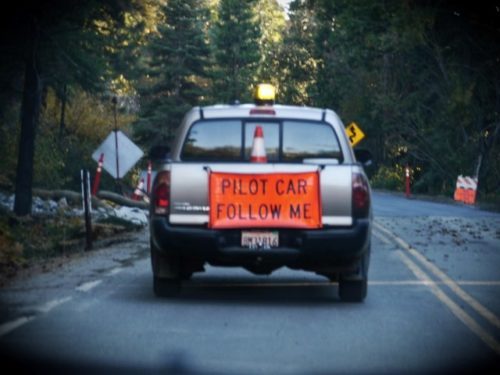 Totally slow we follow our escort vehicel. We pass a small construction site with two small diggers and then the sign-guy from the other side of the construction site shows up. THAT was everything ??? The disappointment is written in my face and the one of Carsten.
Yes, dear politics in Austria. Always insult the US. But we could drastically reduce unemployment in Austria if the construction site traffic lights were replaced by stop-guys and traffic cones by pilot cars …
Very well then. Away from politics, uphill the mountain. The  Glacier Point!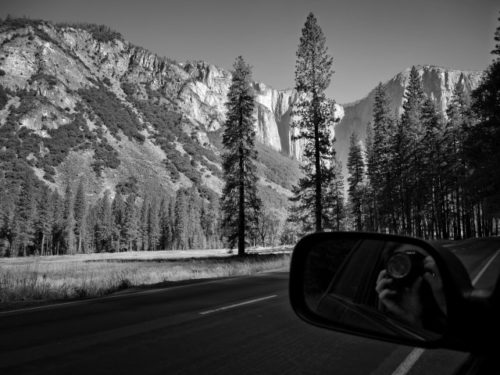 ---
Once arriving up there: WOW, what a view!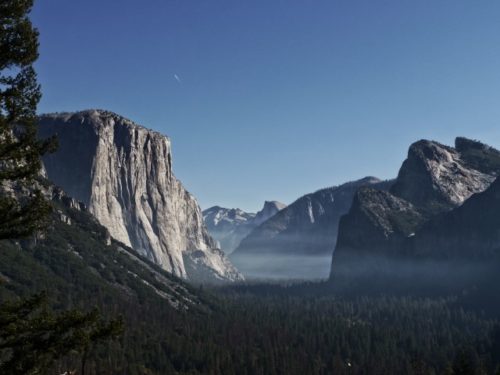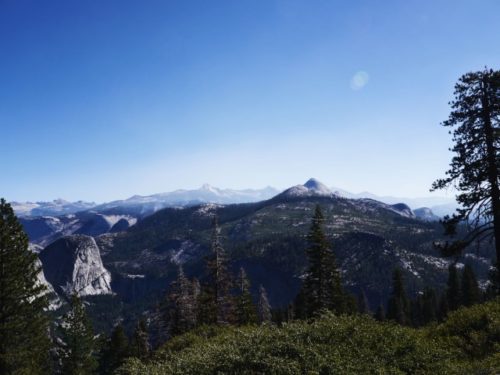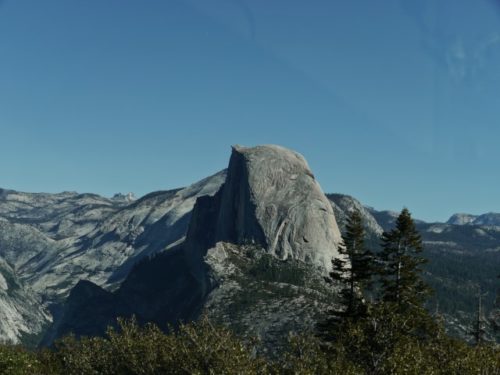 You can reach this view by foot, by car or even a shuttlebus.
And what a nice timing: it's lunchtime…and again we find such a nice spot for having our picknick…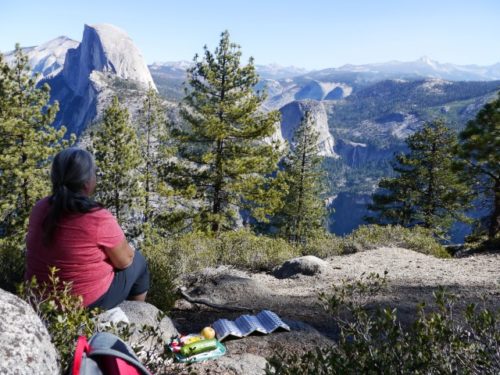 And now? Well, now we drive downhill. What else. To the Yosemite Valley. There you can see a cataract. You can, but you don't have to…maybe it is a bit more impressive to go there in spring – after rain and snow…
We just drift here and there and again I can only say: sooo beautiful!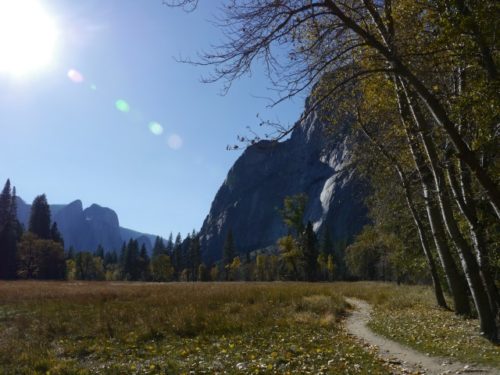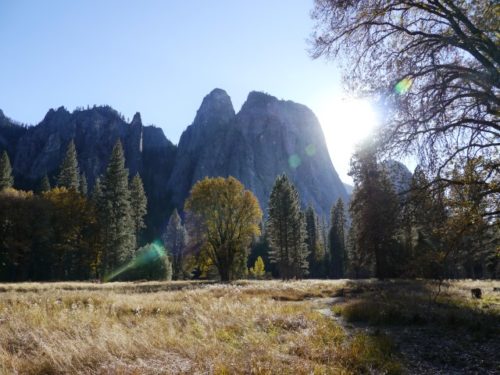 Then we are full. Full with impressions. On the way to our accommodation we encounter many stop-guys and follow-me-cars …
And also other beautiful views …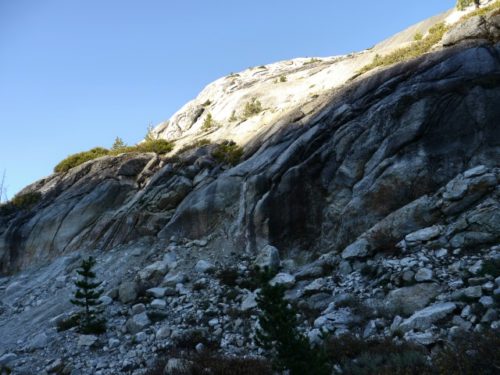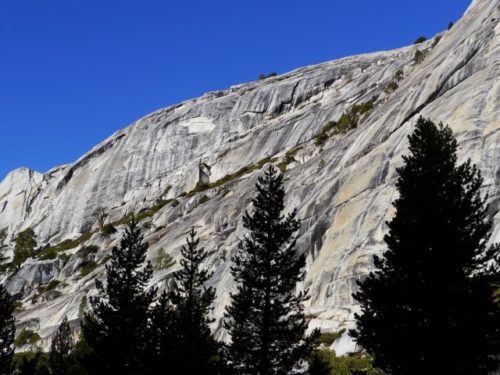 But then it gets ugly and uglier! The landscape gets cheerless and more cheerless and we end up in the cheerless village Oakhurst where our cheerless motel room is waiting. We don't want to be there so we flee in a cheerless restaurant. After having dinner we pass time in a supermarket, watching supermarket shelves as we don't want to return in our cheerless room.
But at some point we have to go back and we snuggle down in our bed. Okay, I am exaggerating. We just lay down on the cheerless mattress. But, we sleep very well. Until 6 am. Then we look at each other and agree: we want to leave. Not even having breakfast here. It's just to cheerless.
So, if you can avoid spending the night here in Oakhurst in the Mountain Trail Lodge you should avoid it.
But if you ever will be in Los Banos you definitely should not avoid to brunch here:  Country Waffles! Especially the waffles with banana and pecans – a dream !!!
---
And then we drive home. Home to Sunnyvale.
It was so beautiful! Yosemite and every day in the last two weeks! I enjoyed my time with my Conni!
"Thank you for this nice time, dear Conni! It was just so enjoyable!"
And tomorrow we have to say good buy. Oh no. I need more tissues. But I will not have too much time for being sad. Because only 24 hours later my Nina *) arrives…
*) friend
Ah,  HERE you can read what else Conni and I have experienced in California …