…five days of Fiesta lie ahead of us. Beauty queens will be chosen and bingo will be played, there is dancing and singing – and, of course, the highlight: the big race on Costa Rica's highest mountain: La Carrera Chirripó
Thursday, 15th of February 2018.
Day 1. Win either at bingo – or become a beauty queen.
At 4 pm the whole village meets in the Salon – It's Bingo Time! Of course I also buy a ticket and  of course I do not win. But I know now all the numbers from 1 – 80 in Spanish!
En el salón: "Vientisiete. Dos – siete." … "Cincuenta y cuatro. Cinco – cuatro."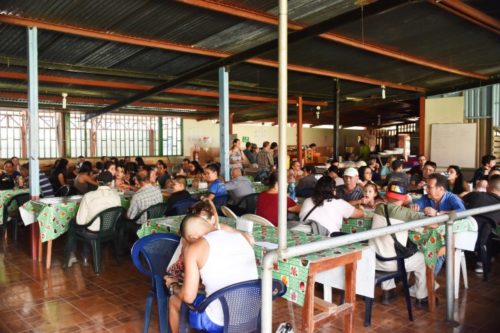 Afterwards, the beauty queen is chosen. Or rather, the Señora Chirripó. Okay, strictly speaking, she is not elected – that no one in the end is sad the Queen is assigned by lot. They draw an envelope that will tell them wether they will or will not be Mrs. Chirripó…
(If they knew that in the US already the five-year-olds (and even younger) have to face the verdict too ugly, or, wow, gorgeous,  to make their mommies proud …)
I keep my fingers crossed for my Hermana – but luck is not with her and she achieves "only" # 4.
Mi hermana Mirna
The evening ends with my niece and a few Miguelitos (a drink that consists mainly of coconut and tastes like a dessert) in the bar Costa Brava.
Friday, 16th of February 2018
Day 2. The President comes, the athletes eat a lot of pasta and in the evening you hear karaoke
During the day we work hard. Madre Margarita helps with the cooking – because later the President will have dinner together with the athletes in the salón. After all, they have to be fit for the big race to Chirripó tomorrow. At least the athletes. And the president, well, he does not have to be fit, but he can still dine with them..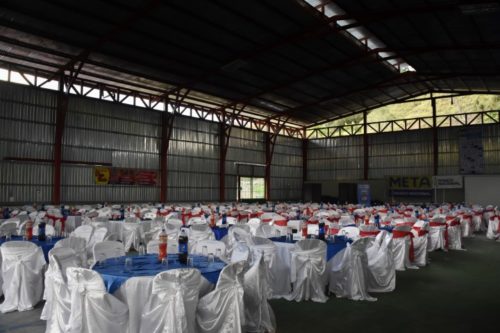 Of course, I also help: I sell ice cream. Ice cream and granizado. You don't know that? Well, out of a huge giant ice cube,  ice chips are shreded and filled into a cup. Then doused with a bright red, supersweet syrup and sprinkled with some sugary milk powder. For the grand finale, the whole thing is doused with condensed milk. Of course I have tasted what I sell and bah, it tastes as horrible as I had imagined. But in Costa Rica they just love everything that is sweet. Too sweet – that does not exist. Therefore, ice chips are heavily shreded…
In the evening, the competitors feast on spaghetti – but without the president. He could not come for whatever reason (the reason was Spanish and I could not understand it).
But the Fiesta is in full swing even without him. There are cervezas and karaoke.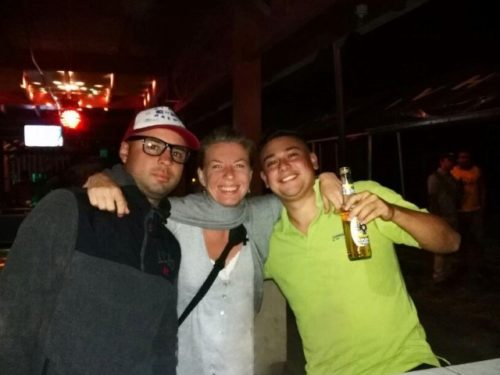 However, I say goodbye early because tomorrow at seven the race starts and I would like to go up the mountain a bit to take some photos of the runners – so I have to get up early.
When I come home around 9:30 pm I do not know how to get into my room: the whole living room is full of sleeping heads. I am reluctant to illuminate them with the flashlight and to wake them up – since these are athletes who want to be fit tomorrow – but I also do not find it so successful to step on them.
Yes, in the village all hotel rooms are fully booked and in each garden there are tents and in living rooms are mattresses ready for the numerous athletes. I find that even more fascinating: not only that they will race up and down 34 kilometers tomorrow in the Carrera Chirripó (from 1350 m to 3400 m and back), no, many of them sleep the night before and afterwards on sleeping pads in a tent (and the nights here are cold)!
In any case, I sleep badly and hope that the athletes can rest better.
Saturday, 16th of February 2018.
Day 3. Carrera Chirripó. Some run 34 kilometers up and down the mountain, others prefer to sweat at the dance. And some do both.
I march off at 6 o'clock. In the backpack the camera and a picnic breakfast (from my Madre homemade tortillas with bean paste and a cake). After about two kilometers, a fifty-minute (!) march up, I find a fine place to photograph and breakfast.
At 7 o'clock the starting signal is fired at the village square. And ten minutes later (!) the first runners arrive!
"Go, go, go!", or: "¡Eso!", the Costa Ricans would holler.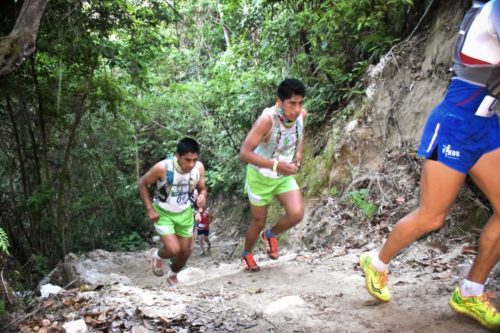 Unbelievable – they actually RUN! Going fast is exhausting, but running? Wow!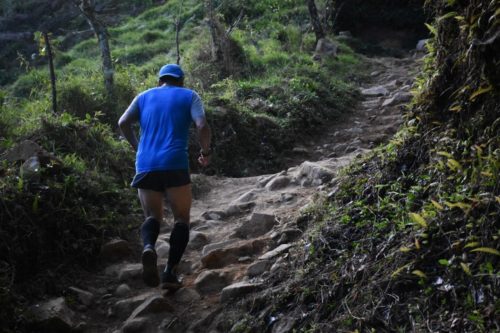 As everyone passed by, I walk home and take a shower – and thinking of the time when I hiked the Chirripó (read more about this hike).
Then I  quickly go to the village center. The first runner crosses the finish line after only 3 hours, 8 minutes and 2 seconds. 3:08:02. In words: threehourseightminutesandtwoseconds! Everyone applauds enthusiastically (even if that's not the record) and I'm moved 🙂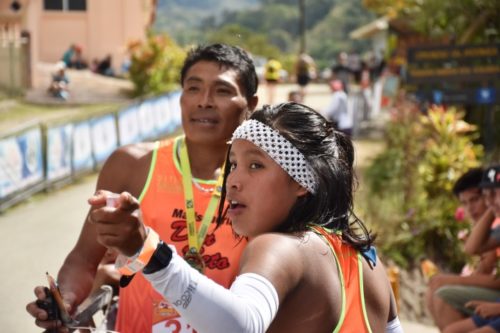 Unfortunately winner, Juan Ramón Fallas Navarro (3:08:02), and second winner, Juan Luis Fallas Navarro (3:09:13), are too fast to get a nice picture. 
But 3rd and 4th I can show you:
3:17:41 Abraham Serrano Ulloa needs for place 3.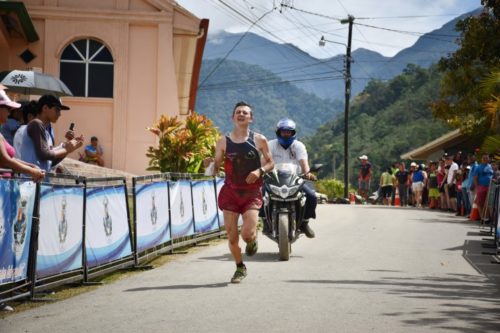 Place 4 needs 3:19:02. Jhony Fallas Navarro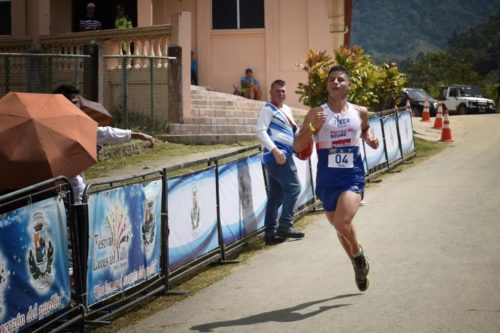 If you want to know more about the times and the race itself go here.
Then the ice cream shop calls and I sell ice cream.
Afterwards I meet with my Padre and we enjoy a coffee and a greasy sweet Costa Rican treats – but I can do that, because in the evening there is the dance. And there I will dance until I have lost all calories!
Until closing time, I wiggle my muscles over the dance floor – but closing time in the salón however is already just after midnight ;-). But not only I dance, the rest of the village too, of course. And even a few of the runners cheerfully sweep across the floor!
Anyway, it was fun! And at home I shuffle carefully again over the sleeping heads to my room …
Sunday, 17th of February 2018.
Day 4. Today's highlights: Mountainbikes and Footballs.
Huhayawn. I have to admit to be a bit tired. Pfff. It's only 7 am. I could try to sleep a bit more, or I get up and do a little hike to get fully awake. I listen for a few minutes to the raging children and the wildly Spanish speaking and laughing family – and decide on Plan B.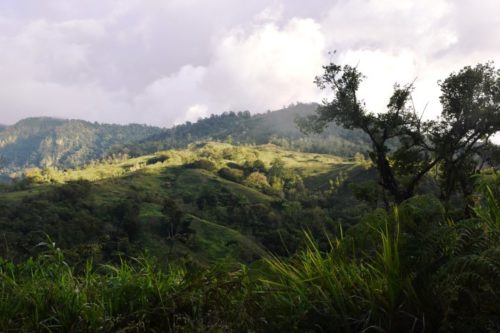 After the walk, a shower and a nourishing beans with rice breakfast, I feel much better. So I head down to the village to applaud the mountain bikers. Hm. I am not too excited this time. I do not want to detract from their performance – especially since I did not want or even could ride this tour. But 40 kilometers of biking – I know some amateur cyclists who would do that in the evening after work…
So I rather sell a little bit more of the sweet cold and then meet with Gerhard for having tea. Gerhard is here on vacation. His dad is German, his mom from Mexico and he himself grew up in Canada. And the daddy's annual highlight was the Carrera Chirripó, where he participated eighteen times – at his last race he was 81 years old! And he not only ran this race, he did it in less than seven hours (if you need more time, you will be disqualified)! And now Gerhard continues the legacy…
In the evening all people from San Gerardo witness a highlight: a football game. THIS is not the highlight yet, but it's the first time in San Gerardo's history that they play in the EVENING. All year round it's pitch dark at 6 pm and therefore a match only had been possible during the day.  But brand new floodlights make the impossible possible: kick-off at 6pm! (I'm not sure though if the village could not use a new road better…)
Monday, 18th of February 2018
Day 5. More football. More dancing.
The morning is quiet. After four days of Fiesta – on such occasions beer is drunken nearly as willingly as in Austria – people need to rest at a certain point…
I do a hike –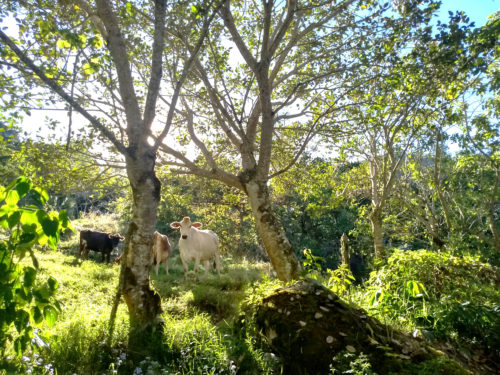 and some book-writing.
In the afternoons and evenings there are again two football matches – but I pass.
In the evening there is music – and of course you will meet Kiki there. Although there are only about thirty survivors who are still fit enough to shake a leg. But that's enough for a fun evening.
And the Carrera Chirripó is over.
But when I fall into bed at midnight, I am also very happy that peace will return to my little village …
---
For four Costa Ricans (from San Gerardo and the surrounding area) it has become very quiet. Independently of each other they commited suicide on Sunday. I knew one of them. I met him during my last stay here – he loved the karaoke bar where he was every Saturday night to sing awful but with great enthusiasm. But not anymore. I do not know why he was too tired to live further, but it saddens me that he could not find his way out of his grief.
Rest in peace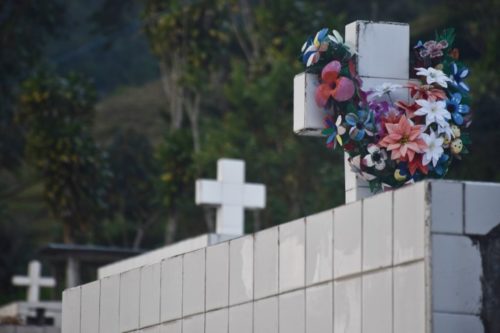 ---
A few days later…
It's quiet now, in the village. Except the terrible motorbike that shakes me daily at five in the morning. It's parked next to my bed, I mean, it's parked outside of course, but the walls are rather thinner than thicker here. And since it is freezing cold at 5 am at this time of the year, the engine does not want to be started. And so it does rucklzuckbrrm. Rucklzuckbrrm. Rucklzuckbrrmbrrmbrrmbrrm. Rucklrucklrucklbrrrrrrrrrrrrrrm.
Most of the times I am awake by then. But if it happens that I'm not, then helps the stepping on the gas wuuuuuuuuumwuuuuuumwuuuuuum to raise me out of my sleep. Sigh.
If it was not pitch-black and bitterly cold at this time, I would get up. But well, sometimes I can fall asleep again – just to punctually get wakedrucklrucklbrrmbrrmbrrmup at 5:30 of motorcycle number two. Still dark and cold I'm still not too happy to leave my warm bed. But at the latest when the children come for having breakfast before school/kindergarden (they start here at 7 am), howling of joy, I give up and start the day. By the way: the mirror in the bathroom gets foggy although the shower contains only cold water!
But the rest of the lifestyle here compensates for the morning ear torture. All are modest, friendly and cheerful – and have no stress. If you wake up, then you're just awake. If you do not have the money to eat pizza, then you eat rice with beans. And if you have to wait, you wait. The waiting does not pass by any faster if you are angry about it, right?