What would have been two months Costa Rica without ever having been to the ocean? I agree.
As I already had visited the nearest ocean, the Pacific (more precisely: Manuel Antonio, Corcovado and Uvita) the last time, I decided this time for Puerto Viejo in the Caribbean! Only bad luck that you can not drive directly by beeline…
In the absence of a car, I choose Costa Rica's best means of transportation: the BUS. I'm a passionate driver – but in Costa Rica, the best way to get around is by bus.
1. for the sake of the environment.
2. for the sake of your purse.
3. the bus network is excellent – you can (almost) go everywhere easily.
4. you can sit back and enjoy the scenery, or relax, or
5. practice your Spanish with your Costa Rican seat neighbor. And
6. in case of an accident, the crumple zone is a lot bigger than in a car 😉
In thirteen hours from the mountains of San Gerardo to Puerto Viejo in the Caribbean
Of course, there is also a disadvantage with the whole bus enthusiasm: when you miss the bus. Then you have to wait a bit  – but that also means you have some time to read in your book.
Anyway, because of traffic jams and missed buses, I'm on the road for a total of thirteen hours until I'm in my ho(s)tel La Casa de Rolando.
It's the perfect choice to check in here if you do not fancy a party hostel or a shared room, yet still want to be just a five-minute walk from the city center (or maybe it's more like a village center?) Puerto Viejos. And perfect if you do not want to spend a fortune. You should not expect any luxury though, but oh how cool, a hammock is waiting on my own terrace! Perfect! It smells a bit musty, but that's "normal" in Costa Rica. Due to the high humidity, EVERYTHING smells a bit musty and insects are crawling everywhere, because there are so many here… I always have to laugh when (mainly German speaking) tourists complain about insects in their booked room as well as the musty smell. Guys. Go and book something in a five star hotel – if they have air conditioning and spray pesticides you are safe there from both. Or just do not go into a tropical country!
In a tropical country, such as Costa Rica (and in Puerto Viejo in particular), high humidity – and therefore smelly laundry – are waiting. And lots of insects. If you do not like that you should consider another destination.
Anyway, I'll hang out in my stuffy hammock now. Just, damn, I'm thirsty and have nothing to drink. On the neighbor-terrace-hammock a girl is chilling which I eagerly ask in Spanish where the nearest supermarket is to be found. Lidia not only explains how to get there, she comes with me and leads me a little bit through the town. She is Italian and moved here six months ago to Puerto Viejo, Costa Rica, and runs a vegan / vegetarian coffee house: Como En Mi Casa.
Yummmmmmmy!
(Not super cheap, but super yummy and super atmosphere)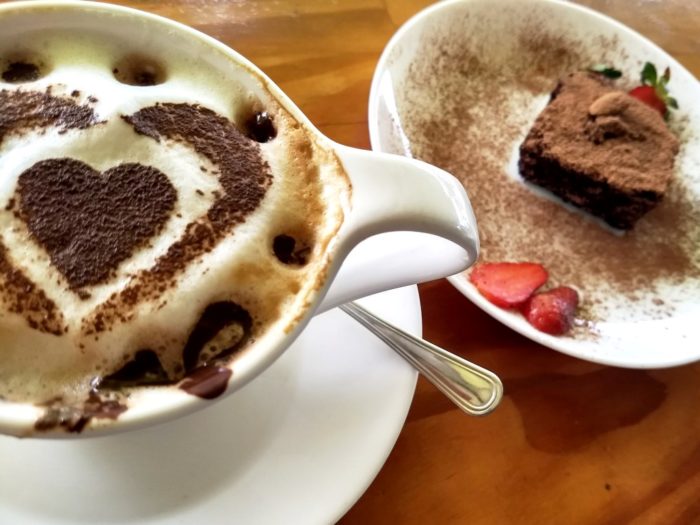 Puerto Viejo. Also in the Caribbean there is rain.
After the hammock chat I sleep well in bed – insect free under my mosquito net – looking forward to my day at the beach tomorrow.
Hmmm. That's it. The beach the next morning: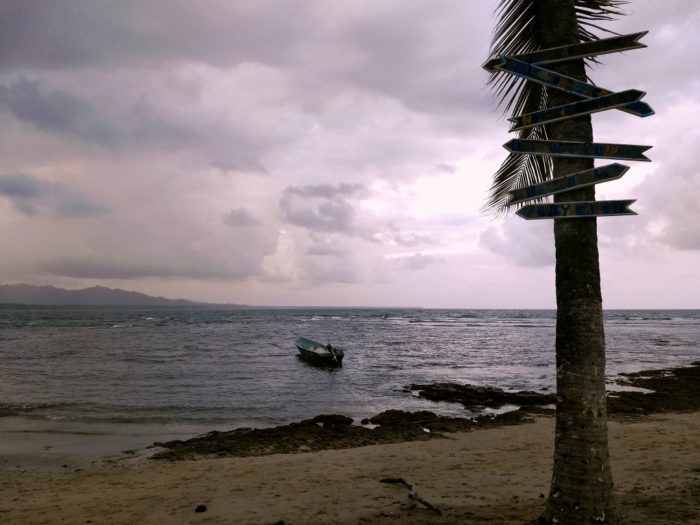 I am confident that the gray clouds will be dissolved in a while and go for a swim. Gorgeous!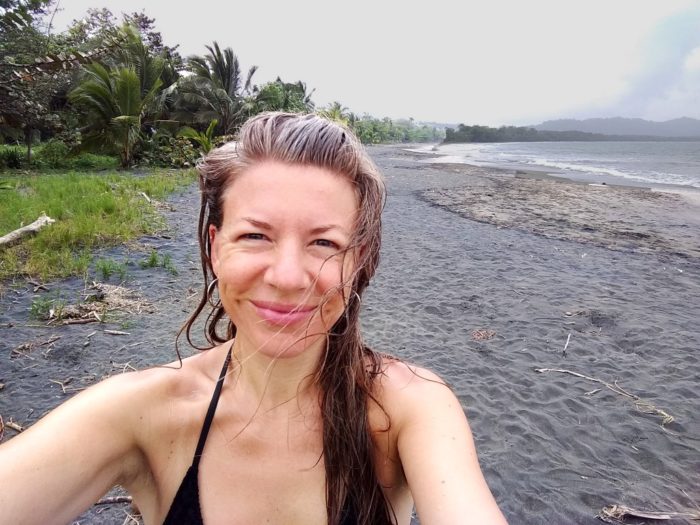 And I should be right. The gray clouds actually dissolve a short time later. It pours. Good that I'm already wet – so the rain does not change much. Nevertheless, I am shuffling home, dry myself, buy an umbrella and go to Lidia's for coffee and cake (see above).
Here I meet Leni, a vacationer. We make an appointment for the next day: we'll bike together to the Manzanillo National Park with some stops at various beaches. Nice!
And in the afternoon, even a little bit of sun appears. Sweet. It's enough sunshine to risk a visit to the beach. However, I stay at the "city beach" only ten minutes away. Who knows.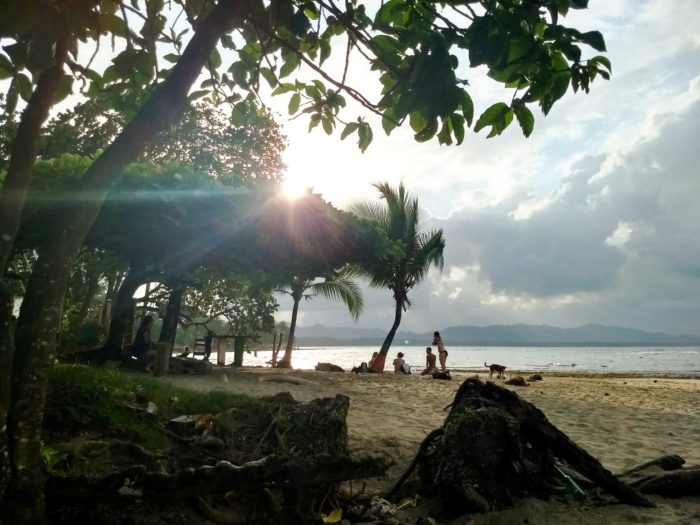 It remains dry and warm and I take a shadow bath. I do not like sunbathing that much – it's too hot for me in the first place, and besides, it's not supposed to be so good for your skin…
Here I also meet Alessandro, also Italian, who spontaneously invites me to his birthday party in the evening. Actually, I had already made an appointment with Lidia – but the world of Italy in Puerto Viejo is small. So she knows the people and we go to the Fiesta together. Incidentally, the common language is Spanish – because their English was not good enough to be spoken. And I find out that I understand the non-native speakers so much better than the Ticos. Because they speak, just like me, slower and with a simple vocabulary 🙂 I am still totally happy that I obviously have learned something, being able to have a (simple) conversation in Spanish!
In the bars of Puerto Viejo also hang out sloths…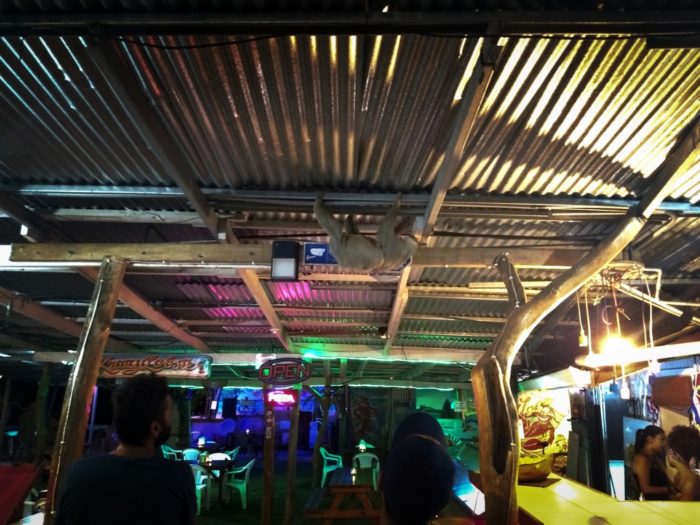 Absolute MUST DO in Puerto Viejo, Costa Rica: Rent a bike and bike to Manzanillo!
For $ 5 you're in. Most bike shops require 8, but there is a small shop next to the Casa de Rolando and here a bike only costs 5 dollars a day.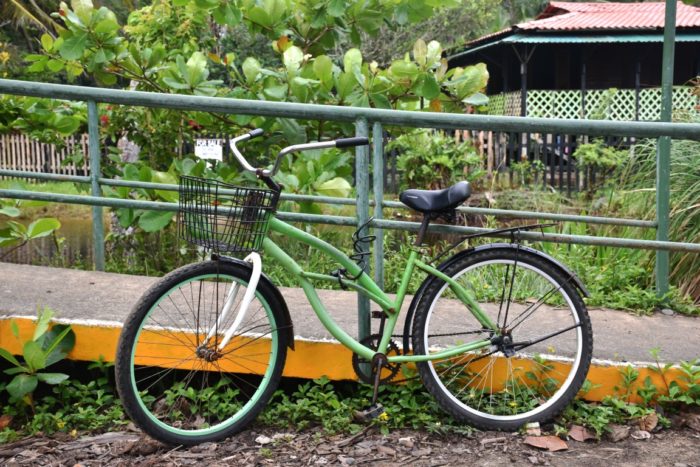 Unfortunately, Leni has got a Puke-into-a-Pot-Virus, and so I'm going on my own. Oh, how beautiful. Really extremely fine to bike! You go just through the middle of the jungle and it pays off to bike slowly: one sees again and again monkeys, beautiful butterflies and birds.
It's thirteen kilometers to Manzanillo – but being flat, it's not exhausting at all to get there. Sometimes a bus or a car passes by, but mostly you only will meet other cyclists.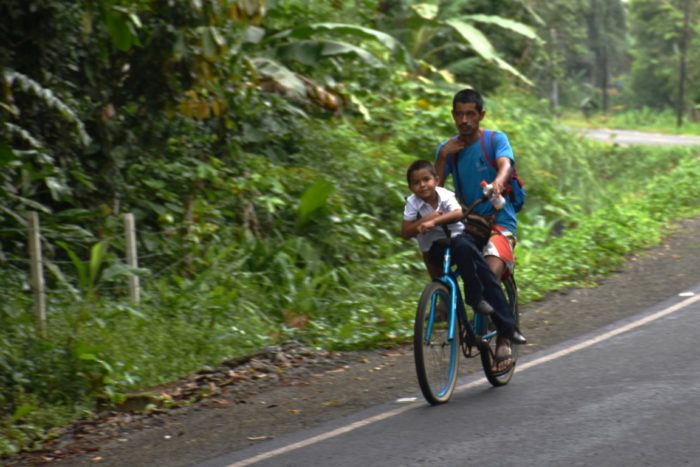 And best of all: if you are hot or if you want to take a break, just turn to the left: there is the ocean, and one beach after another invites you to sunbathe, shadebathe or water splash. But beware: there are many currents here, so do not swim out if you do not know exactly what you are doing. I do not know and therefore rather splashing around on the shore in the waves …
Therefore it takes me a while to get to Manzanillo. And once there, it starts raining again and I stop by in the only open restaurant. A soda restaurant.
In a soda restaurant, typical Costa Rican dishes are cooked and served. Basic food is 'casado' – in English: 'married'. On your plate are rice and beans married and you get a side dish of your choice (meat, fish, vegetables, egg).
I get a undercooled welcome from the owner of the restaurant. Almost like in Vienna – there the hosts, or waiters, often are not so happy when a new guest enters the territory. Because that means, yes, that means, sigh: work …
I order Pinto Gallo (here are rice and beans already mixed, and not like Casado next to each other on the plate). And to drink a black tea with milk. A short time later, the innkeeper rams a cup on my table. The content is almost pure white. Is there tea in the cup as well? A tea bag hangs out the cup, so obviously yes. I try. Yikes! This is hot milk in which a teabag hangs. I walk to the bar and ask very kindly if I could have a new black tea please – without milk. I will take some of this pot. Please.
Whew. Eyes are rolled by a muttering host. But he takes a new cup, takes a new tea bag, puts the tea bag in the cup and pours: COLD WATER into it, so that the cup is to a third full, or better, empty. I ask him if I could possibly get the tea served with hot water. Another sigh and more eyes are rolled. What an idiot!? But then my brew is put into the microwave and made hot. Aha. Then I get my drink: a cup, one-third full of tea, two-thirds empty: to pour the milk on it …
"Perfecto…" I grumble and pour a small sip of milk to my tea. Who cares. Then I simply drink a very, very small tea.
Incidentally, my pinto also tastes like shit. Speaking of shit. I have to go to the bathroom. Since my host does not like to talk, he points only in the direction where is written on a sign: Baño – cuesta 500 Colones. That's almost $ 1. Pfff.
The bathroom lady has a similar engaging nature as my host – they must be related – and the toilet is as shitty as my Pinto. When I want to wash my hands, the bathroom lady cries out: "No! No vendo el agua!" ("I do not sell the water!"), and pushes me away, verbally, from the sink. And I decide that she did not deserve the five hundred colones and go without paying. She curses behind me. And I think that she had to use force to get her money. But she seems to have no desire for that as she stopped yelling and did not haunt me either.
Thank heaven, the rain has stopped. Here I do not want to be.
Please do yourself a favour and don't go to the Soda-Maxi-Restaurant in Manzanillo! Service: awful. Food: awful.
I continue to Gandoca – Manzanillo – Wildlife – Refuge. Here my bike has to stay behind and I continue walking. BEAUTIFUL! Small bays and jungle.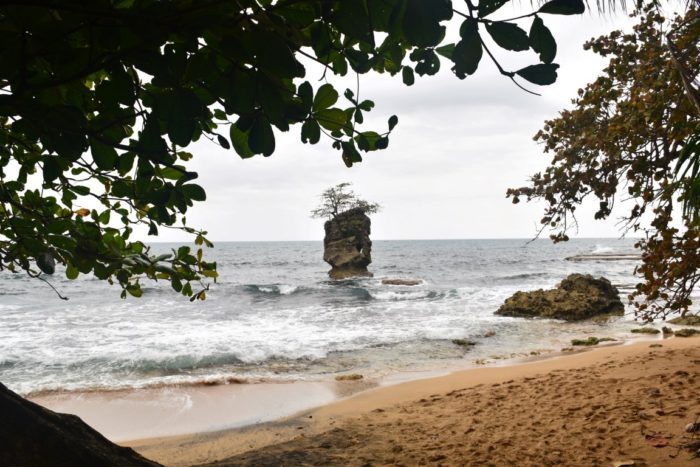 I go on and on in the jungle. Until the road becomes a bit impassable. I try very hard. But the way is terribly sludgy and slippery and without suitable footwear just not walkable. I'm not sure what kind of footwear would be suitable for THIS path – my flip flops aren't …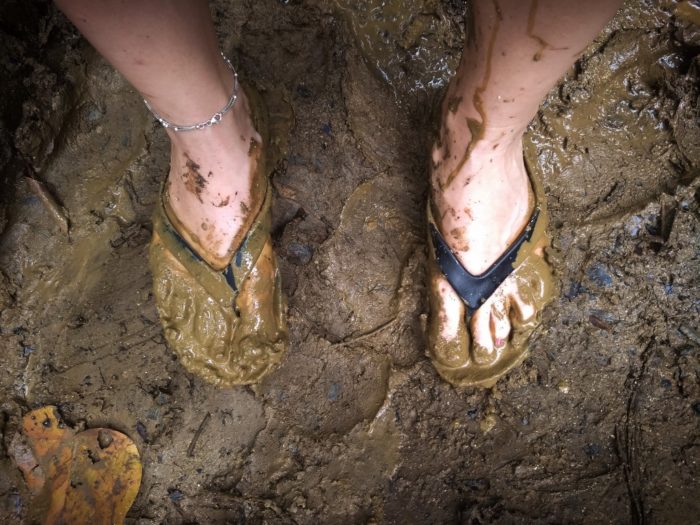 As it goes up and down you slide uncontrollably downhill – that is too dangerous for me and I walk, pardon, slide back.
WHAM-BAM
Startled I stop. A coconut just flew out of the sky right in front of me and burst on the ground right in front of me! I even could feel the breeze on my nose!
And there it is: coconut sematary…
For the ignorant among you: every year more people fall victim to the flying coconuts than, for example, sharks!
Therefore I go to the sharks. It's just safer.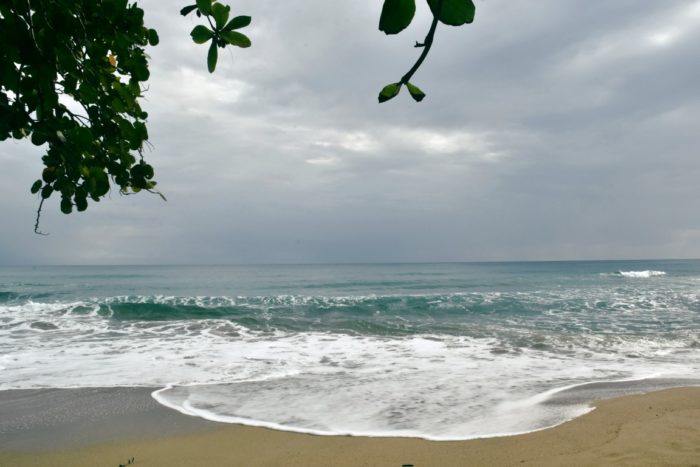 The rest of the day I do beach-hopping. A bit of a swim here, a little bit of splashing there and biking with my bike in between. And of course I have to drink a hot chocolate! In the Chocorart you get it organic and vegan, fresh from the field infront of the hous, into your cup. Yummy!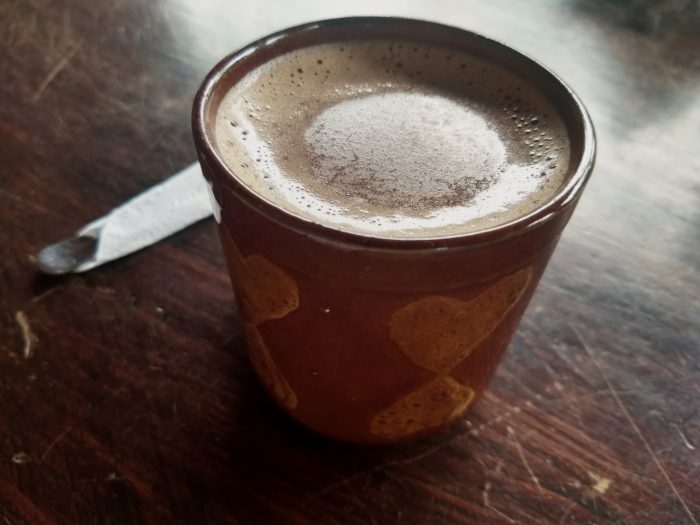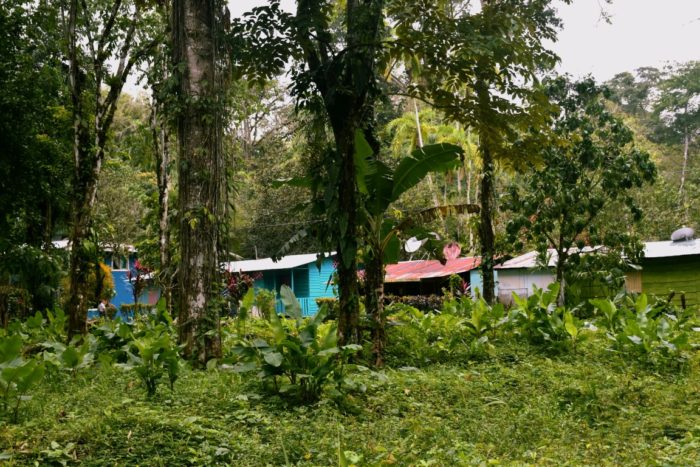 For dinner, I have the leftovers from yesterday's dinner – to save money, I bought bread in the supermarket. Well. At least it says on the package that it is bread. It consists of 90% air and 10% bad taste. Covered with bean paste and chips, it can be rinsed off quite well with a sip of beer …
Afterwards I take a long digestive walk through Puerto Viejo and go to bed early.
The next morning I have even more air bread with bean paste and chips (but no beer) for breakfast, and as the sun shines from the sky, I pack my beach backpack again and run off. I walk along the beach, kilometer after kilometer, mile after mile. It's just too nice!
Then I reach the surfer beach – I settle down. I like to watch surfers.
The day elapses quite fast with reading, swimming (careful: huge waves!),  marveling at surf professionals and smirking over surf beginners (mean, I know).
In the afternoon, I have a nice coffee and a nice chat with a friend at home via Internet telephony.
In the evening I meet Lidia and we are having dinner together. After all the air breads a welcome change! On the way home, it all of a sudden starts to pour and we quickly save ourselves into the next bar. Here plays a live band. And a very good one, indeed. Well, then, dancing instead of sleeping – it's fate, right? After the band some fire jugglers do their best. Wow, skillfully they throw their burning tires and sticks in the air. Throwing works quite well – they only have a little difficulties in catching it. So burning objects end up in the crowd, again and again. Since it is not raining anymore and I do not want to burn today – where I have barely escaped the coconut death – I prefer to go home and noodle myself under my mosquito net …
Adios a Puerto Viejo. Bienvenido a San Gerardo.
How did I like it, the Caribbean? I had wonderful three days – and that was enough. It is very different from San Gerardo. Apart from the fact that there are no mountains here, but a sea, people are different too. Many tourists! And the Ticos living here are quite rude (due to the many tourists?). Still, for a few days, it's wonderful here!
Puerto Viejo is a small town with supermarkets, very nice restaurants and bars and coffee houses, small shops to stroll around and the whole thing is right by the sea. But please: Bring your umbrella – for the sun and for the rain 🙂
Had I stayed longer I would have made a change of location: Cahuita should be very nice. Next time then.
Now I have to go home, that takes me a little while. And when I arrive at home there's no electricity. Why? Someone burned something on his property (branches, or leaves or stuff like that) – and also torches the power pole together with the power cable…
That's Costa Rica. Pura vida,